August 19, 2014
Wild Libraries: Fort York
Yesterday, we took a trip on the streetcar to the newest (and 99th!) branch of the Toronto Public Library, the Fort York Library at the foot of Bathurst Street, a place that is helping to turn this former no-man's land between the rail-lines and the waterfront into an actual neighbourhood. A bright, airy building with floor to ceiling windows, Fort York Library is a transport vehicle-loving toddler's paradise, actually, with streetcars and cement-mixers rumbling over the Bathurst Bridge, trains running by to the north, and cars on the Gardiner Expressway whizzing by overhead. Not to mention condo towers going up all around us, cranes in the air, the CN tower so close—what a spectacular view of the city!
We walked in and were drawn to the views, and then to the new books on display in the foyer (and the great thing about a new library is that every book is a new book, and it was an excellent selection of new releases and classics, nary a dog-ear among them yet). And then Harriet and Iris made their way into the kids' section, where they felt immediately at home.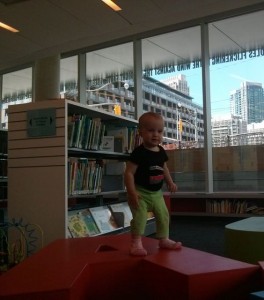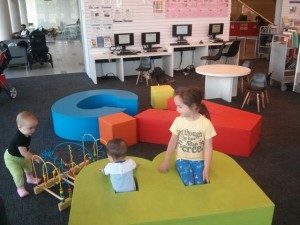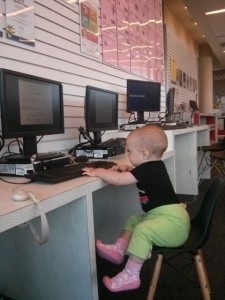 Harriet was pleased to find a Superman picture book, and I tried to read it to her, all the while chasing Iris around the library. (I have found that visiting the library with both children on my own is a pretty ridiculous experience.) Both girls had fun climbing in the letters and picking books off the shelves, and recognizing some of their favourites among the collection.
And then Iris discovered there was a staircase, and so of course, she had to climb it. Big Sister led the way.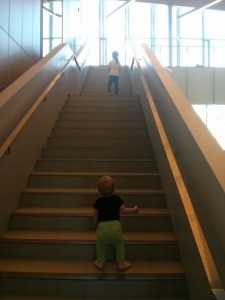 They spun around in the spiffy red chairs and didn't annoy the other patrons too much.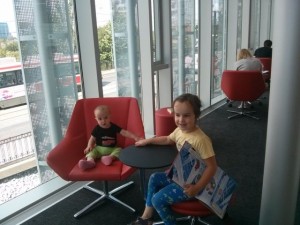 We were intrigued by the sight of the 3-D printer, and the objects it has made. Lots of space for reading, and group and individual study up there on the second floor too, and a really nice selection of books for teens, brand new gorgeous art books and graphic novels.
When it was time to go, Harriet signed her Superman book out.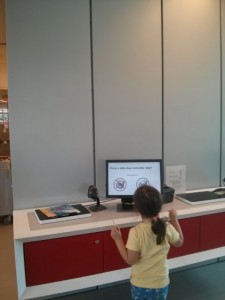 And then we took a selfie as we waited for the streetcar, which delivered us home just in time for lunch.