August 12, 2014
Summer of the Yellow Dress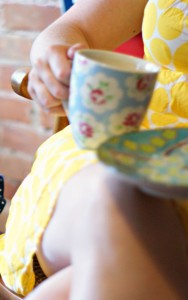 In most of our photos from this summer so far, a memorable (much) recurring character has been my yellow polkadot dress, which is one of the few things I own that always garners compliments from strangers. I bought the dress at a secondhand store at the end of May, which was surprising because I'm sort of between bodies right now and clothing is an awkward fit. So it was shocking to encounter this Donna Karan shift dress for $30, and then the yellow polkadot dress for $20, which I can even breastfeed in if I'm unabashed about having my boobs out.
The yellow dress was a strange purchase for me–I've never worn anything yellow before. I am very much partial to red and blacks, to fuchsia if I'm feeling like some colour. But the yellow dress appealed to me because it looked like something Harriet would wear. Yellow is her favourite colour, and she's zealously devoted to it, still, even though she has recently consented to be served dinner on a plate that is another colour (if necessary). When I wear yellow, I look even more sallow than I actually am, so I've always avoided it, while celebrating Harriet's affinity for it. Hooray for a little girl whose favourite colour is anything but pink.
But this dress… "What would Harriet do?" I wondered. Obviously, she would buy it, and insist on wearing it to bed, and while I didn't go that far, I bought it and even put it on. "What do you think?" I asked my family, and they loved it. It's kind of a weird dress with a ruffly colour, one that's meant to be worn off the shoulder, I think, but I don't do that because I am not a 1970s' bridesmaid. It's a wee bit too tight (but what isn't these days) but the cut is flattering. And it turns out that I look not so terrible in yellow after all, or at least not once summer has arrived and the sunshine has kissed my face a bit.
And it's a lesson I think, as well as a fortunate fashion tale (because it could well have gone the other way). That I can learn a little something by taking a leap and seeing the world through Harriet's eyes. That something might be gained by aspiring to be just a little more like she is.
I am thinking of taking up her practice of lying on the sidewalk and screaming and kicking whenever I'm hungry or tired…