June 8, 2014
Summer Reads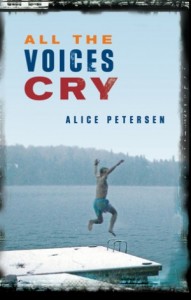 I wrote a fun blog post for 49th Shelf last week about books with fun summer covers, including my favourite summer cover of all time which is All the Voices Cry by Alice Petersen.
And speaking of summer reads, Chatelaine has a bumper-crop of great books lined up in their Summer Reading Special. I am happy to have reviewed the memoir Glitter and Glue by Kelly Corrigan, about a young American woman whose eyes are opened to motherhood and the experiences of her own mother during a gig working as an au-pair for a widower and his children in Australia. I found the book touching and remarkable for its M Word associations. You can read my take on it here.
Some summer reads I'm looking forward to getting to soon are Mating For Life by Marissa Stapley, The Vacationers by Emma Straub, Thunderstruck by Elizabeth McCracken and Based on a True Story by Elizabeth Renzetti.