June 5, 2014
A Year of Iris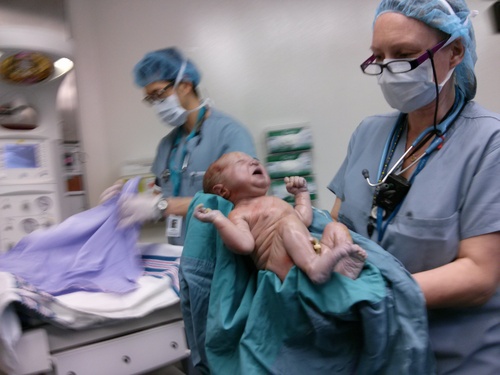 This whole week has been rife with "one year ago" nostalgia, the disbelief that so much time has passed, that it's all gone so fast, and that there ever was a time when we didn't have an Iris. And it is astounding to have a record of my first glimpse of her, a baby who looked nothing like anyone I'd ever seen, certainly not like her sister, who I'd sort of assumed was a baby template. But no, because here was someone else, someone entirely different, utterly herself. I was able to love her immediately, even as I understood that I didn't know her at all.
While I feel as though I've always had an understanding of Harriet, that if I could have dreamed up a daughter she would have been just the one, Iris has been a mystery to me. She's kept us guessing–she was born with a tooth, and then another by 3 months, and has yet to have any more. She's had weird ailments that made us regular visitors at the Emergency Room this winter, and none of them have been either serious or straightforward. She's very small, her weight in the low percentiles since 3 months of age, and while her weight went up at her 9 month visit, her height was down and she was in the third percentile. "Third?" I asked for clarification, thinking this put her in the bottom 30%, but no, it was the bottom 3. We track our girls' heights on a doorframe in our house, and Iris is so much smaller than Harriet was at this age. And it's all so different from my first baby, who was big and bruising and never got sick. And yet…
Iris can walk! Only single steps for now, but she has pretty much mastered pulling herself up to standing without support. She has been crawling for months, speeding across the floor, up flights of stairs, and across the sandbox, and the playground, and Harriet's classroom, and pretty much anywhere. Iris is at home in the world. She can be jolly and happy, and she laughs and laughs, but has a scream that's the definition of bloodcurdling. She will rarely consent to have anyone hold her, except her parents, but if you give her time and space, she'll warm to you. She likes to play with balls and flips through books and if you put on music, she will do the shaky bum bum dance. She has learned to safely get down from furniture and the step in our hallway, and has never fallen. Somewhat recklessly, she has the ability to turn anything into a potential noose. Her favourite joke is blowing raspberries on people's bare skin. She is an expert at blowing kissing too, and waving, and clapping, and in the last day or so, we've begun to suspect that Iris can talk. She can say, "Bye bye", and "dog" and "Daddy" and sing, "Happy Birthday" (which sounds a bit like, "Apa buh"). She is absolutely in love with her sister, and the two of them now get up to all kinds of tricks, and they make one and other laugh and laugh, and their relationship makes me happy. I am also fascinated by the fact that it has nothing to do with me.
Iris has been up to all kinds of adventures this year. She's taken two journeys on a plane, another on a train, and plenty of road trips. She has loved our co-op shifts at playschool and has been so welcomed there that she thinks it's her school too. She's had afternoon tea at the Windsor Arms, and been out for all kinds of brunches, lunches and dinners. Last Friday, she tried sushi for the first time, and discovered an affinity for edamame. On Sunday, we had our first experience of going out for ice cream and ordering four cones. She likes to hang out at the park and eat sand, and if you try to take her out of the swing, she will scream at you. She likes the slide. She likes looking out the window. She likes to open cupboard doors, get her fingers stuck in drawers, and often won't eat her dinner until you take her out of her high chair and then she'll eat what she's just thrown on the floor. She's big into eating paper and I once found a googly eye in her diaper. She is still really enthusiastic about pushing the button to change the traffic signals before we cross the street. And once we've crossed the street too. And if we just happen to be walking by one. And she loves climbing, her latest trick involving standing up on her rocking chair and then rocking it perilously. Her favourite book is Little You by Richard Van Camp and her Wonder Woman Board Book. She likes turning pages more than she likes listening to stories. She likes it when I play guitar, but mostly because she wants to put things in the hole. She is always game for a round of "Row Row Row Your Boat."
She's terrible at sleeping, and only naps on people, which has its benefits and drawbacks. Ever since I met her, I've been ridiculously tired, but I've also been ridiculously happy, so pleased and grateful to have the family I want to have. (To be finished having babies too.) I am grateful too for the gift of having learned to appreciate babies, an ability that was lost on me when Harriet was small. I am grateful that this really has been something of a do-over and that I had a chance to appreciate what they mean when they all tell us to enjoy every minute. I would never have believed it, but for the most part, enjoy it I really really did.
Happy Birthday to our beautiful girl! How wonderful life is now you're in the world.