May 29, 2014
Kids Books We've Been Enjoying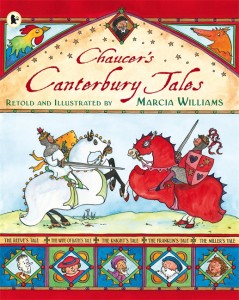 Chaucer's Canterbury Tales by Marcia Williams: We received this book after Harriet's classmate's Knights and Castles birthday party. (This classmate happens to have a notoriously bookish Mum who seems to be making a serious return to book-blogging–yay!). Harriet is comics-mad, loves a good story about knights, plus she'd been told that there was lots of farting in these stories. With her richly illustrated panels, Marcia Williams has made the Canterbury Tales fun and accessible to modern readers, and they were as bawdy as promised. These adaptations serve as an excellent introduction to the original tales, and keep these timeless stories in our collective consciousness.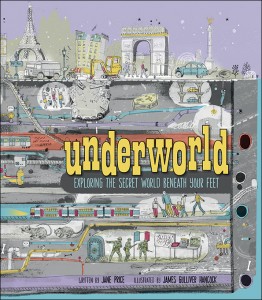 Underworld: Exploring the Secret World Beneath Your Feet by Jane Price and James Gulliver Hancock: One day, Harriet and I spent ages lying on the carpet reading this book, whose every new page revealed something else to fascinate us. Egyptian tombs, Paris catacombs. the Tokyo subway, volcanoes, buried treasure, WW1 trenches, bomb shelters in the London Blitz, and underground cities in Turkey. Has a book ever so contained everything? It was pleasure to read a book from which both of us learned so much, and the design and illustrations of this one are really well done.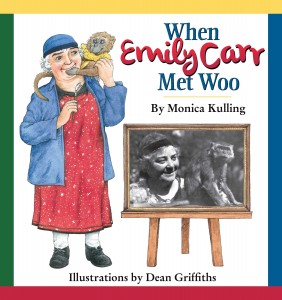 When Emily Carr Met Woo by Monica Kulling and Dean Griffiths: The creative team behind Lumpito (a picture book about Pablo Picasso) gets together again for this story about the eccentric Canadian painter Carr and her messy, extraordinary life, a part of which was the monkey, Woo. There is a bit of peril when said monkey devours a tube of yellow paint, but (spoilers!) disasters are averted. This is a fun take on an unconventional and important life.
Charlie Cook's Favourite Book by Julia Donaldson and Axel Scheffler: On Monday when we were all sick on Harriet's birthday, this gift arrived from Harriet's great-aunt and it was such a bright spot in a difficult day. This book thrilled us first because no one ever gives us books–we are an intimidating prospect owning so many books already. But we'd never heard of this one, and we love Julia Donaldson, and this one is so so good–a story of a book reading a book about a boy who's reading a book about a book who's reading about a book about a… A book within a book within a book! So great! So it's a bit like that, but even better.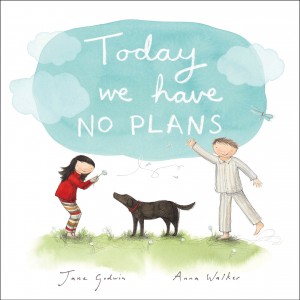 Today We Have No Plans by Jane Godwin and Anna Walker: I sometimes am so grateful that we don't have a lot of extra money and no car because it means we're ineligible for the hyper-scheduling that some families happily choose for themselves but which would never ever work for me. The one thing I'm glad to be rich in is time, and this book (which I bought at our playschool book sale for a dollar) celebrates such wealth, what it means after a busy week on the hamster wheel of piano lessons, carpooling, soccer practice, hurried breakfasts, rinse, repeat, etc, to be able to have a day with nothing in it (yet). To linger in your pjs over pancakes (and the paper). The very best days, plus it rhymes, so this book and I were always going to get along.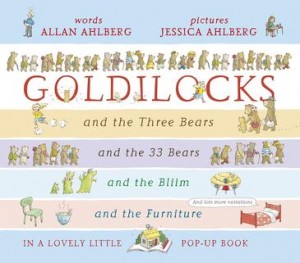 The Goldilocks Variations by Allen Ahlberg and Jessica Ahlberg: This book is weird and wonderful and full of pop-ups and silly jokes–is there anything better? Ahlberg (with his daughter doing the illustrations) riffs on the familiar Goldilocks tale in true Ahlbergian style–plus, there's a book within a book. Of course! See Goldlilocks as she steals into the 3 bears' house, and then the 33 bears' (really tall) house, and then into an alien spaceship, and the one where she is thwarted by the furniture and a sheet called James. (Why don't more sheets have names?) Stuff and nonsense. We love it.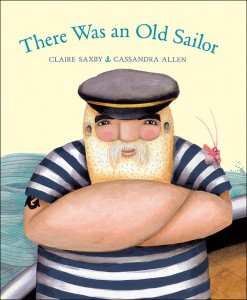 There Was An Old Sailor by Claire Saxby and Cassandra Allen: Forget the old woman who swallowed a fly! This sailor ends up swallowing a whale, but not before a jellyfish, a squid, a krill. It's a delightful twist on a  familiar song, and perfectly complemented with vivid, striking illustrations that please the eye and give a modern twist to traditional maritime images. It ends with a belch, which will never not prove amusing, and then the reader will encounter some fun facts about the sea creatures in this book (like a squid has a beak–who knew?).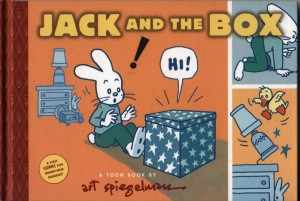 Jack and the Box by Art Spiegelman: After reading Michael Barclay's piece on Toon Books, I was inspired to read Jeet Heer's biography of their founder and editor Francoise Mouly, and also to buy a copy of Jack and the Box. Mostly because I loved this panel. It's a wacky, startling and funny story of a boy and his unconventional Jack in the Box. The silliness is the best part. There is also a physicality necessary to the story which the comic form so perfectly expresses.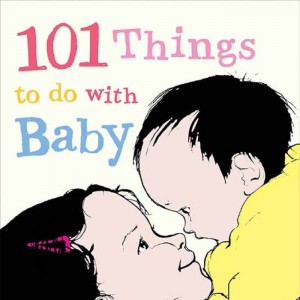 101 Things to Do With Baby by Jan Ormerod: Seriously, is there anything that can't be expressed in a series of illustrated panels? Lately in our house, we think: no. Clearly, the folks at Groundwood Books agree, which is why they've reissued Ormerod's classic after 30 years. And I love this book, whose first image of a mom reading to her small daughter while breastfeeding a new baby was pretty much how I spent my whole last summer. Showing the moments–funny, tender and mundane–which make up a day, Ormerod shows the trials and joys of being a big sister, and gives a wonderful child's-eye view of the world.