May 27, 2014
The M Word keeps going…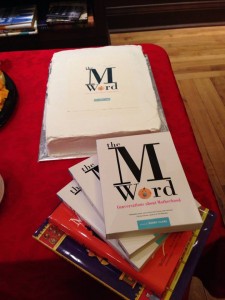 The Great Sheree Fitch wrote a beautiful review of The M Word for the Telegraph-Journal in New Brunswick on May 10. The review is not online, but I received a clipping in the post yesterday, and it's so wonderful. She writes, "The M Word felt like a kind of emotional labour for the three days I was reading. This is a motherlode of deeply personal truths, generous and courageous souls, bearing witness to lives shaped, if not defined, by, well, "life with a uterus," as the foreword suggests." I am honoured and thrilled by this review.
I was also very pleased by poet and critic Sina Queyras's review of the book at Lemon Hound. I found the review interesting, provocative, and totally right in a lot of ways. She asked great questions (about the book itself and her own reactions to it), opening the book itself up wider. Mostly though, I like the part where she writes, "Would I recommend this book? I think so…" and I'l leave it at that. She's right—The M Word is a start, and I never intended it to be an end. And that, I think, is part of the book's power. 
Finally, I am so pleased that this week, the excellent blog 4 Mothers will be focussing on The M Word all week long. Today, my friend Nathalie Foy writes about The M Word as an exercise in empathy. I'm looking forward to the other posts, and to having my own guest post on the site on Friday. The M Word is a start indeed. It's really nice to see the conversations continue.
And they'll continue at a really fun event we have coming up at Parent Books in Toronto on June 19, at which we'll be discussing representations of motherhood in children's books. I'm looking forward to this one. Stay tuned for details…