May 12, 2014
This Week with The M Word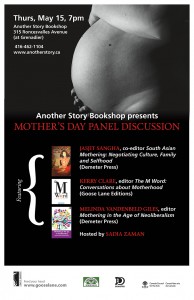 I am going to be honest: launching a book has been as draining as its been exhilarating. We have been extraordinarily lucky with this book to have copies selling, to be connecting with readers, and to be receiving attention from the media. And yet: staging an event last week with three (three!) attendees has left me with a mild case of PTSD and now I'm basically petrified of leaving the house, plus various factions conspiring to drive me insane. I need to take a deep breath, aaaand….
Here's hoping for better numbers at our event at Another Story Bookshop on Roncesvalles this week. I'm going to be participating in a panel discussion with Jasjit Sangha, co-editor South Asian Mothering: Negotiating Culture, Family and Selfhood (Demeter Press) and Melinda Vandenbeld Giles, editor Mothering in the Age of Neoliberalism (Demeter Press), hosted by Sadia Zaman. The event starts at 7pm and I'm looking forward to it.

Elsewhere, the biggest news: The M Word is a bestseller in Winnipeg! I love this. We also continue to be Goose Lane's top-selling title, which I'm pleased about.
Last week, Sarah Hampson mentioned The M Word in her Mother's Day column in the Globe and Mail, which ends with the wonderful lines: "Sure, there were hard rules – manners, respect, loyalty, work – but much of the experience of being a parent was to be open to the wonder of what each would become. What was right for one wasn't necessarily right for the other. There is no perfect way. It's about listening to them and to your own voice, your own instinct of love. Which is so very simple and fun." 
Lesley Kenny reviewed the book at the Descant blog. An excerpt from Fiona Tinwei Lam's essay on single motherhood was reprinted in The Tyee. And in her review in The Kitchener Waterloo Record, Susan Fish writes "Rather than attempting to resolve issues once and for all, or to glorify and idealize a madonna-like figure, [The M Word] presents in alphabetical order a wide variety of the experiences of women who have embraced, eschewed or endured the experiences of motherhood in its many, different realities."