May 10, 2014
Destination Bookshop: Blue Heron Books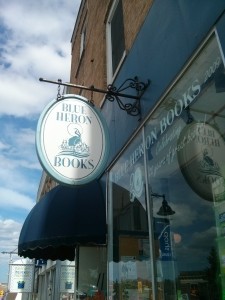 Destination Bookshop is part travel-guide, and part bookshop discovery. Having recently lost my local bookshop, Destination Bookshops now seem more important than ever, first because I have to buy my books somewhere, and second to support great shops in order to ensure that we've always got somewhere to go. 
I've been hearing buzz about Blue Heron Books in Uxbridge (about 1 hour from Toronto) for years, but it was the lovely Matilda Magtree who really got me interested in the shop, particularly when she explained that it was her local indie, even though she had to drive for 45 minutes to get there. And so this year I asked that my Mother's Day gift be a family road trip to Uxbridge so that I could see Blue Heron for myself, and it was just a coincidence that Uxbridge is halfway between my mom's house and mine so that she could meet us there too and Mother's Day could be observed in proper fashion.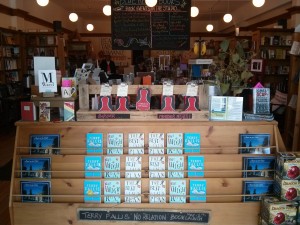 We arrived to find that we'd come on the right day because Steve Burrows was there launching his birding detective book, A Siege of Bitterns, and they even had a cake! The cake was good, and I've been wanting to check out A Siege of Bitterns ever since I put Burrows' Inspector Dominic Jejeune on my Canadian Sleuth list in December. So I was pleased to get a signed copy and enjoy my slice of cake while my children wreaked havoc in the store's huge gallery/meeting space in the back.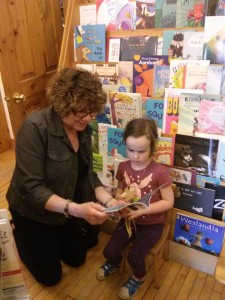 My mom's Mother's Day gift to me was reading to Harriet from DC Comics Superhero I Can Read Books so that I could spend ages wondering around and perusing Blue Heron's shelves. Their children's book selection was huge, and I ended up buying The Goldilocks Variations by Allan Ahlberg and his daughter Jessica Ahlberg, which I've never heard of, but which we read tonight and had the grown-ups among us in hysterics.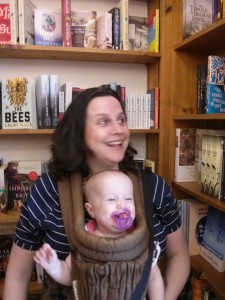 Books. Books. Books! This was a monumental trip for our family as we haven't visited a bookshop since, well, Tuesday, and there was the shop I visited alone on Wednesday, but. Moving on. The staff at Blue Heron Books knew we were coming (because of Twitter, of course) and they'd put out The M Word in anticipation, and were kind enough to have me sign some copies. We were immediately taken in by the friendliness of the shop staff, and it was clear that Blue Heron is the Uxbridge town centre, as people for stopping in to visit the whole time we were there, and also to pick up Nora Roberts novels as presents to wrap up for tomorrow. Plus, Blue Heron runs all kinds of events, as demonstrated by Steve Burrows in the house. Clearly there had been something to all the buzzing.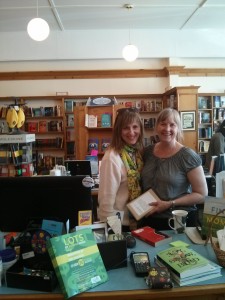 Though the shop itself was buzzing today for a very special reason. I already knew that so much of what Blue Heron was getting so right was thanks to genius of its owner, Shelley Macbeth (who won the 2012 CBA Libris Award for Bookseller of the Year). Shelley was badly injured in a car accident a few months back, and after months of hospitalization has returned home and made huge strides on the long and difficult road to recovery. Today she came into the store to meet us after a long time away, and it was an honour to meet such an esteemed book selling hero, but also she was lovely, and we bonded over a mutual love of Margaret Drabble. And I was only one of many many people happy to see Shelley back behind the counter at Blue Heron Books today.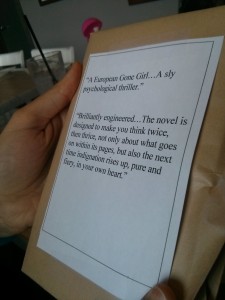 I picked up a copy of Boy Snow Bird by Helen Oyeyemi, which I've been looking forward to reading for a while now. And then both Stuart and I became entranced by Blue Heron's "Blind Date" bookshelf. It is an ingenious concept, not just because of the aesthetics of brown paper (but really, that's a huge part of the appeal). These anonymous book packages are marked by a description of their contents, and I was intrigued by the sound of, "A European Gone Girl…" I can't think of any other case in which I'd buy a book I'd never heard of, or at least I was hoping I'd never heard of it (and I know a lot about books. There aren't so many that I'd never heard of). This was perhaps our most exciting purchase of the day.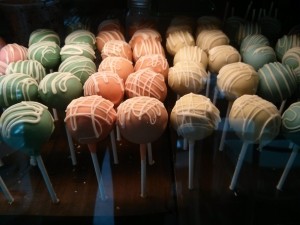 Finally it was time to go, and we went around the corner for dinner at Urban Pantry, as recommended by Ms. Magtree. The food was delicious, and I got to have first fiddleheads of the season! We were all entranced by the cake pops, which were new to us as we don't spend so much time on Pinterest. The children were only moderately bonkers, and a good time was had by all.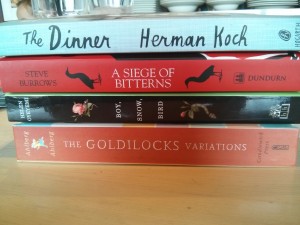 So that is how it all stacked up, another marvellous installation of Destination Bookshop. Our Blind Date book turned out to be The Dinner by Herman Koch, which indeed I've never heard of and cannot wait to read. It seems that Blue Heron Books never disappoints, so everyone wasn't wrong when they told me that.
I suspect we'll be back again.