April 20, 2014
This cake was for the party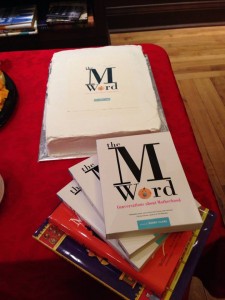 The best thing is that I am no longer terrified, and it turned out I didn't have to be after all. It turns out that I am quite good at talking about The M Word, because it's a book that I know through and through, and that other people are interested enough to be listening. Our launch party on Tuesday went without a hitch, with a huge turnout and a wonderful presentation by our contributors. It was a huge whirlwind, kind of like getting married, in that I've spent the days since dazzled by the goodness but also concerned about all the people I saw who I didn't manage to say good-bye to. Many books were sold, and the whole cake got eaten. Ben McNally Books is the most wonderful place, and it was an honour to have our event there.
Thanks to Nathalie, who snapped this picture, which I adore. I'll be sharing more pictures from the Kingston and Toronto events later in the week.
The next morning, I did an interview with CBC Ontario Morning, which was really exciting and which plenty of people heard! I took the train to Kingston that afternoon with Iris and my mom, and took part in a reading that night at A Novel Idea Bookstore. Once again, the contributors were fantastic. It was amazing and fascinating to hear these essays read, these essays that I know so well, and to access them on a level that's entirely new. Very cool too that this was a whole other list of contributors but their readings were every bit as excellent as they'd been the night before. What a line-up we've got going on for us in this anthology!
So now we've got a bit of quiet before things start getting busy again around Mother's Day. (The idea is that The M Word makes a really great Mother's Day gift. We think that this is a very good idea.) Events are coming up in Burlington, Calgary, Winnipeg, Hamilton, Victoria and Toronto, and I do hope you can make it to one.
And if you're still not sure whether The M Word is for you, allow me to share our glowing endorsement by the kind and generous Angie Abdou, who writes:
"Stop everything. Withhold judgement for a minute. I promise you The M Word is not like any book you've read about motherhood. It is unexpected at every turn. Imagine your smartest and most articulate friend. Now fill the room with women as amazing as her, then spend as long as you like having honest conversations about your darkest, most secret thoughts around becoming (or not becoming) a parent. Say things you're not really allowed to say. Say them well. Say them without judgement. That's how immersion inThe M Word feels. As soon as I began reading the first essay, I realized how badly I needed this book." 
Thank you, Angie!