April 6, 2014
My Real Children by Jo Walton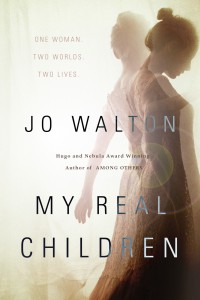 Jo Walton's previous novel, Among Others, was one of my favourite books of 2012 and won the Hugo and Nebula Awards, which you can't say about most books that are my favourite books of any year. I appreciate that because of Jo Walton, for me "the Hugo and the Nebula Awards" are now words that flow from my fingers like "Giller" or "Booker" do. Having made her start with fantasy in 2002, Walton's writing moved in a science fiction direction with her alternate history "Small Change" series (which I can't wait to read soon), and then proceeded to be altogether genre-busting with Among Others, which, in its unabashed bookishness, was embraced by passionate readers of all stripes. And now she has produced another such genre-busting book with My Real Children, the story of a woman with memory problems who can swear she's lived two lives.
At first glance, the story recalls the movie Sliding Doors (Gwyneth and a fictional uncoupling, or not–remember?), or Lionel Shriver's The Post-Birthday World—stories about the possibility of two destinies hinging on a single moment. But it also brings to mind Kate Atkinson's Life After Life, the twentieth century told through the experience of a character who gets to live it more than once. But where Walton's take is particularly compelling and original, as it was with Among Others, is the way her fantastical elements exist in a so-solid reality, leaving it up to the reader to decide where the line between fantasy and reality begins to blur, if it exists at all.
Patricia Cowan is confused, we are told, and some days she's even "Very Confused", as the nurses document in their notes on a clipboard at the end of her bed. Is it simply her dementia, or can she remember two lives? Her different children come to visit, there are subtle differences between two care homes where apparently she resides, her different memories. Could this be possible? Is it just senility? Which conclusion is more plausible? And it's a testament to the spell Walton casts that these questions don't even matter. To Cowan herself, they certainly don't.
The "sliding door" moment, that instant in which Patricia Cowan's life cleaved in two, takes place in 1949 when she agrees to marry Mark. And also when she doesn't. Up until this point, she'd been swept along in time, losing her brother in WW2, receiving a place at Oxford (because all the men were away, she says, explaining away her success with the tide). She does well at school, finds  a teaching job. But Mark's less-than-romantic proposal is the definitive moment in which she becomes an agent in her fate. When she says, "Yes," she finds herself "Tricia", in a loveless marriage, wed to a tyrant who keeps her powerless and miserable. Saying, "No," results in Pat, some temporary heartbreak, but then fulfilment found in travel, a writing career, a life partnership with a biologist called Bee.
So which are her real children, Patricia Cowan wonders? The four children she had with Mark? With the son who became a rock star and died young of AIDS? Or the three children she had with Bee, two her biological children and all three fathered by the photographer, Michael? And as the reader is taken through the chronology of these family lives, it becomes clear that Patricia Cowan's lives took place against political backdrops as different as their domestic ones. As we suspect all along and is confirmed in the book's final chapter, it's a butterfly-flapping-its-wings scenario. Is it that Tricia, with a life otherwise devoid of purpose and therefore with time to devote to campaigning for the Campaign for Nuclear Disarmament, is key to the eventual obliteration of such weapons? Whereas Pat lives in a world where nuclear weapons are used more than once, radiation seeping through the atmosphere to disastrous consequences decades later. The Soviets land on the moon. LBJ is implicated in the death of President Kennedy. IRA bombings, Cuban missiles, nuclear exchanges between India and Pakistan, gay marriage made legal in the 1980s, mandatory identity cards, Google in the 1990s, US and Russia aligned against Europe, or American returned to its pre-WW2 isolationist stance. The possibilities are fascinating, how one thing just leads to another. Like a book. Life a life.
As I read this book, I thought less of Kate Atkinson and Sliding Doors and more of Hermione Lee's Penelope Fitzgerald biography, which I read in December. Not because Walton and Fitzgerald are anything alike in terms of style, but rather that Fitzgerald and Patricia Cowan are near contemporaries with similar experiences–plans and legacies interrupted by wartime, coming of age in an era overseen by a new establishment, Oxbridge educations that culminate in disappointing marriages and women (in the case of Tricia/Trish) who discover their true capabilities later in life. I suppose it says something about Walton's skill that her novel calls to mind a Hermione Lee biography, that Patricia Cowan's two lives seem so convincingly lived.
As the bookish Walton undoubtedly knows, one book always leads to another. I mean, she clearly knows this sort of thing because she's referenced Penelope Farmer's Charlotte Sometimes and Margaret Drabble before you even hit page 16. Eventually, as the end of the book drew nearer (and oh, when it finally happened, I was gutted. I might have wished Patricia Cowan had life after life so that I could have gone on forever reading them…), I was thinking about Lauren Groff's Arcadia, which similarly spans realistic historical periods to end up in a  dystopian future. The atmosphere at the end of My Real Children is much the same, showing lives impacted by huge and sweeping histories but the details of these lives being the narratives that matter, the only constants in a history constructed of flux.