March 23, 2014
The Age by Nancy Lee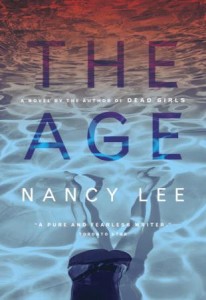 My review of The Age by Nancy Lee appeared in The Globe and Mail this weekend:
It seems fitting, if sinister, to suggest that something in the air could be responsible for a strange tension emanating lately from the nation's western edge. The Age – the long-awaited first novel by Nancy Lee, who won acclaim with the short-story collection Dead Girls– joins terrific recent fiction by Zsuzsi Gartner and Caroline Adderson to form a subgenre of Vancouver literature that puts the "domestic" in domestic terrorism. These works explore female characters' relationships to extremism to complicate notions of home and family.

Lee's title refers to two pivotal ages, her plot born of their intersection. The first is the age in which her story takes place, 1984, which, thanks to Orwell, was always going to be a storied year, even if Soviet warships hadn't been gathering in the Atlantic with the Doomsday Clock ticking close to midnight. It would be a peculiar time in which – and here's the second title reference – to come of age, seemingly on the brink of annihilation, as is the case for Gerry, Lee's misfit protagonist.
Read the whole thing here.