February 22, 2014
On Rebecca Mead, her Life in Middlemarch, and the Strange Alchemy of the Reread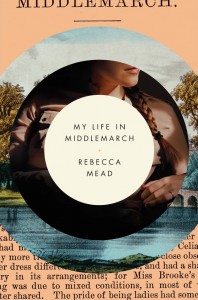 It almost seems remiss now to admit that I've read Middlemarch just once, and not until I was too old for it to become the foundation of my being. Because what a foundation, its purview so large and dense, the force of its moral sweep. Middlemarch is the novel that New Yorker Staff Writer Rebecca Mead has returned to again and again, as she sets out to explain in her new book, My Life in Middlemarch.
Not simply a celebration of George Eliot's novel, however, Mead's book is a testament to the strange alchemy of the reread. "A really good book can speak to you at a different stage of your life," she told me during a recent telephone conversation
"With a book as complex as Middlemarch, literally there are different stories you can appreciate at different times," she says. And even the same stories and characters are subject to change. While in her early experiences with the novel, Mead identified with Dorothea Brook's inchoate longing, years later, it would be Casaubon who she'd view with sympathy. "You realize that he was just a very sad, middle-aged man who messed up. You can't but read him in middle age and see the stripes of that in your experience."
In Middlemarch, Mead sees stripes of Eliot's experience as well, My Life in Middlemarch emerging as a curious blend of biography, autobiography and literary analysis. It's the kind of approach to a novel—particularly a classic one—that university trains out of most of us. (The day after our conversation, Mead tweeted: "recurring question theme from Canadian interviewers: Did you ever think "how dare I write this book?" ‪#thingsAmericansdontask".)
But it was an approach that came naturally to Mead. "I studied literature at university and became aware that the way that scholars think and talk about books isn't the way that ordinary readers do." She wished her book to be an acknowledgement that "a sense of recognition is where a lot of the pleasure of reading begins."
She continues, "Why do ordinary people read? They read because they feel that the stories they're learning are enriching their lives somehow or they're giving them a way to think about their own experience."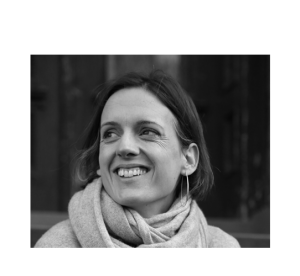 While My Life in Middlemarch is concerned with Mead's own experiences though (in love, work, parenthood, in relation to her parents, and her native England), her autobiography remains peripheral to the book's central narrative. "I was happy with balance I struck," she said. "Some people wanted more and wanted less. The book is very personal, but it's not confessional. I think I must have been, without consciously thinking about it, channeling this sense of Victorian restraint."
Ultimately, the richest life story in My Life in Middlemarch turns out to be Eliot's own, Mead using the novelist's biography (which was highly unconventional by Victorian standards, and even our own) to draw out the novel's subtle underpinnings. Few critics have mined Middlemarch for what it has to tell us about motherhood, except perhaps how motherhood can come between two women, as it does for Dorothea and her sister, Celia.
On the basis of her own experience, however, Mead is able to see more deeply into the novel. An uncanny connection (of many) has Mead herself become the stepmother to three boys, just as Eliot was (by her husband, George Henry Lewes). And Mead shows how Eliot's experiences as a stepmother are echoed within the stories of Middlemarch and its structure, these echoes revealing just how deeply a woman who never had biological children was able to intuit motherhood after all.
"If I could ask George Eliot any question," remarks Mead, "it would be to ask her about not having children herself, whether she always knew that it was something that she didn't want. For me, having a child has been most important thing I've ever done, for her not to have had that intensity of experience…"
One area in which Eliot did have intensity of experience, however, was in her relationship with Lewes, which Mead depicts as a love story far too perfect to ever work in fiction. "Their relationship was a real inspiration," she says. "They had their ups and downs, but were intensely compatible. They had this amazing writers' companionship. Their relationship was especially moving because they met well into middle age. They were both mature and seasoned, had experienced disappointment."
While Eliot's biography is indeed central to My Life in Middlemarch, it is the novel itself that structures the book, whose eight chapters are titled for the eight books of Middlemarch. Such a structure came about organically.
"As I was taking notes and figuring it out, it became clear that the titles were so suggestive, perfectly apt for describing aspects of [Eliot's] life ["Old and Young", "Waiting for Death", "Three Love Problems", etc.], and from that, the book flowed very easily. I haven't written anything on this scale with such a structural conceit before, and I'm delighted by the aesthetic shape of it, very happy."
"There were moments," Mead notes, "writing this book where I was so deep in it everything fitting together, and I felt either I'm really inspired or I'm psychotic; it all meshed."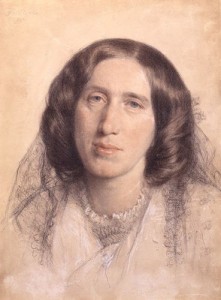 It was pointed out to Mead in a recent interview that the connections might go even deeper, that her own book manages to recapitulate the moral story of Middlemarch, the journey from self-centredness into wider empathy. My Life in Middlemarch starts off with Mead's own story and her connection to the novel, to conclude with a deeper understanding of her parents' lives and relationship, through the story of Fred and Mary. Mead was thrilled to see this. "What a joyful experience it was to write it," she says.
The book is a joyful experience to read as well, as attested to by the terrific buzz it has generated. That buzz is all the more remarkable for how much this isn't the sort of book that any of us these days are meant to be interested in anyway, a celebration of reading a book that's more that 140-years old, not to mention so much longer than 140 characters.
The response to her book, says Mead, "maybe speaks to a yearning people have to slow down. People are responding to my taking the time to slow down with Middlemarch, to go through it and to read so carefully."
And not just read it, but reread it. Mead agrees here with my suggestion that there is particular relationship between rereading and the Victorian novel. "That attempt at a whole panorama… There is destiny, ambition, scale and pace that allows one to go back and revisit."
But what a challenge is rereading with so little time for reading at all.
And here, Mead shares an anecdote about a character she encountered during her Middlemarch research. One of the eight original Middlemarch novellas had come up for auction, and she went to the sale. The book sold for $35,000. Mead told the buyer, "I wish I had that kind of money to spend on a book."
She says, "And he told me, 'You do. You just need to rearrange your priorities.' With rereading, it's the same."