February 5, 2014
On Truth, Justice, and Ramona Quimby: An Appreciation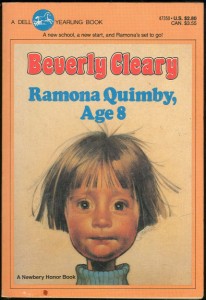 I have heard rumours here and there that to children raised on Hogwarts and Lemony Snicket, the adventures of Ramona Quimby come across as a little bit dull. Perhaps so, but then the domestic has always been my literary milieu, setting for plenty of magic in its own right. As a child, I was wild about Ramona, about her "wonderful, blunderful" self, as she was referred to at the end of Ramona Forever. In her blundering, I suppose she was a forerunner for chick-lit heroines on shoe-covered books in decades to come, and it's part of the reason I identified with her, but here is a serious distinction: unlike Bridget Jones on the fireman's pole, to give an example, Ramona never ever lost her dignity.
To be an adult encountering Ramona again has been absolutely fascinating. First, unlike Rowling, whose magic spells allow us to forgive literary missteps, Beverly Cleary never misses a beat. The pacing, characterization and dialogue in these novels is brilliant. Nothing clunks. These books are really not so dated–I only remember the line in Ramona the Brave, when Mrs. Quimby announces she is going back to work, and Beezus responds with, "Mother! You're going to be liberated." I note that on a newer edition of Ramona Quimby, Age 8, Ramona is depicted as wearing a bicycle helmet, which seems bafflingly incongruous (but then I have this theory that "safety" is a conspiracy theory, and that's another story).
Reading these novels with my daughter, I see they are tremendously useful for educational purposes. For my education, that is, Cleary's stories reminding me exactly of what it was like to be little in the world. I have forgotten this, the injustices of childhood, which Ramona calls attention to and battles at every turn. And injustice it truly is, to have no say in your comings and goings, to have the ground pulled out from under your feet on a regular basis, to have your fears and worries scoffed at, to be shushed and quieted, shooed away from underfoot. Reading the Ramona books provides with tremendous sympathy for how difficult it is for a child to be in the world. Reading the Ramona books, I think, makes me a better parent.
They're also useful to my daughter though, not for morals and lessons, but for everything that's going on in the background. That Ramona's mother and father are depicted as real people, for one, their experiences providing a whole level of subtext to these stories that I wouldn't have picked up on as a child, but which I zero in on now. I was reading aloud the Quimby parents' argument from Ramona and Her Mother recently, and it was so pitch perfect and hilarious:
"Ramona, don't just stand there," said Mr. Quimby as he laid the bacon in a frying pan. "Get busy and set the table. As my grandmother used to say, 'Every kettle must rest on its own bottom,' so do your part."

Ramona made a face as she reached for the place mats. "Daddy, I bet your grandmother didn't really say all the things you say she said."

"If she did, she must have been a dreadful bore," said Mrs. Quimby, who was beating batter as if she were angry with it.

Mr. Quimby looked hurt. "You didn't know my grandmother."

"If she went around spouting wisdom all the time, I can't say I'm sorry." Mrs. Quimby was on her knees, dragging the griddle from behind the pots and pans in the bottom of the cupboard.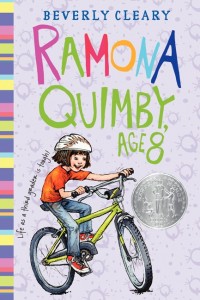 It is remarkable how much economics factors into these books, much like how they do in our own family life. Though by no means poor, the Quimby family has to think about costs and expenses. A new bedroom is only built onto their house because Mrs. Quimby returns to work and they have the means to do so. Later, Mr. Quimby loses his job, and when he returns to work, it is to a position that makes him terribly unhappy. This leads to Ramona's perpetual worrying, and her silent pleading with him via attempted thought control, "Daddy, please like your job. Please like your job." Her concern as she listens from her bed to the timbre of her parents' late night discussions in another room.
And don't you remember that? Anxiety and fear over things of which you have no control? Only hearing patches of the conversation, parts of the story, and filling in the blanks with all your deepest fears? The dawning understanding that your family life is built on unsure foundations, as unsure as is anything I mean, and the terror of thinking it might all come apart?
That life isn't fair is such a cliche, but in her stories, Cleary makes this idea endlessly interesting. Her situations are always sometimes unbearably true to life–the frustrations of trying to sew a pair of pants for a toy elephant, for example. Or the problems of a not-so-great teacher. Not a bad teacher, but just one generally lacking in appeal. There are teachers like this, and while in other novels, her student might discover her actual heart of gold, in Ramona, such teachers are trials to be borne. Because life is like that. Life is unfair. Sometimes your cat dies and you've got to bury it and you get blisters on your fingers.
But life is also rich in its smallest details—the squelch of boots in the mud, the appeal of a banana sticker, the sounds of kids riding bikes outside, a haircut that transforms you into a pixie for a while. That the foundation of family can be surer than you think. And that when you're wonderful and blunderful, you're a lot like life is. Which is something that's good to know.