January 31, 2014
Solid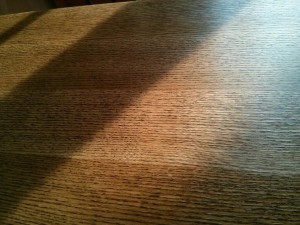 There is a segment of the population that won't understand this at all, but sometimes I get bothered because I'm not famous on twitter. (Some of you know exactly what I'm talking about though.) I have never once gone viral. BoingBoing pays me no attention at all, and neither does Reddit, except for the time that I reviewed a Harlequin Romance novel about the mayor of Toronto. And sometime I worry that my lack of twitter fame means that I fundamentally don't exist, which of course is everything turned inside-out. I know this. It doesn't take much to remember the truth, which is that if the whole internet disappeared tomorrow, taking my writing career along with it, and I was left with just my little family in the world, I would still have everything. This—our friends and our family—is what really matters. Of everything I ever make, this life we have together is more important than anything else.
And so I focus on the domestic. Not terribly fashionable, I know, but quite timeless (and celebrated, in all its raw complexity). I love my home, my kitchen at is centre (complete with the obligatory red teapot and bunting). We've lived in our apartment for 5 years now, which is the longest I've lived anywhere since I was 19 years old. We are committed to renting, and committed to this place, which may not be "a house", but it is home. And in order to make this home work for the next few years, especially now that we're a family of four, we had to do something about the kitchen. A kitchen which wasn't big enough for our round oak table (which had been my childhood table; my mom bought it at an auction years ago), or at least the table was the wrong shape, it took up too much room, and it was far too crowded when everybody was sat at it. And I wanted to be able to have dinner parties. Dinner parties, to me, are integral to home.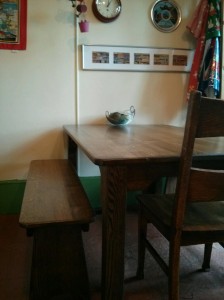 So we had a new kitchen table built. Our friend Nigel Wilson, of Red Lion Workshop, took our measurements and plans (for a rectangular table with benches that could be tucked underneath when not in use) and this morning, with his excellent family, delivered the most important piece of furniture we'll ever buy. Made of reclaimed oak, it is as solid as it is beautiful. It is everything we dreamed of.
I think that materials are important. I like to think in the long-term. I used to buy furniture in flat packs made out of particle board, and then one day I realized I didn't want a life made out of such things after all. It is quite likely that I will never buy a kitchen table ever again, and so the extra investment we've made now will pay off in the long term, and then to be able to sit down together at a piece of furniture that's made so well–what a magnificent foundation to build a family life upon.
To contemplate a kitchen table is a loaded thing. It's still tied up in philosophy for me, because I'm thinking of Woolf and To the Lighthouse, and Mr. Ramsay thinking about a kitchen table when one isn't there. For me, that kitchen table always looked a lot like this one. But to contemplate a kitchen table is also thinking about the future, about our children sitting on these benches, their little legs growing longer until they one day reach the floor. All the breakfasts and dinners we'll eat here together, glasses of milk spilled and angry toddlers sent to their room, but the harmonious meals too, the conversations we'll share. Homework also, once the dinner is cleared away. And birthday parties, play-dough, cookie-baking, hide-and-seek underneath it. Breaking out our portable ping-pong set. The friends who'll sit around this table with us, friends we might not have even met yet. That we might move one day, and be able to replace the benches with chairs. The amazing privilege of possibility, the assurances of a future, or our faith in such a thing. Which is what a solid kitchen table signifies to me.
The table is pristine for the moment. I was talking to Nigel about this when he was here for lunch. I said, "How do we take care of it?" He said, "You have to use it. The first few rings on the wood, he said, will be painful to see, but you'll get used to it. Then one day, maybe 20 years now, you'll look back and you'll see that mark, and that mark. And you'll remember everything."