January 22, 2014
Kathryn Kuitenbrouwer's All the Broken Things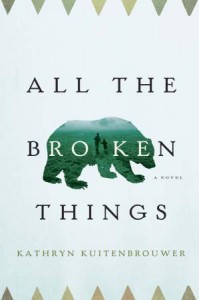 There is a mention of bunting on page 59 of Kathryn Kuitenbrouwer's All the Broken Things, which Kathryn has claimed (maybe even in all seriousness) that she included in the book just for me, and from this point you should infer two things which are related: first, that I am situated too close to Kathryn Kuitenbrouwer to offer up a proper review, and second, that I am among those who are fortunate enough to call Kathryn a friend. Kathryn is smart, blunt, hilarious, a bit terrifying in her brilliance, and blessed/burdened with a huge and generous spirit. My admiration of her as a person and as a writer stretches oh, so long, and I am so pleased that her new novel All the Broken Things has garnered rave reviews in The Toronto Star and the National Post.
While I am pleased, however, I am troubled that the reviews have neglected to mention how weird is All the Broken Things. You might be inclined to think it's just another romp about a boy and his bear, Blueberries for Sal in the Junction, except with a horrible disfigured toddler who is a victim of Agent Orange (and that Sal in the Blueberries book was actually a girl). Laura Eggertson writes in the Star, " Bo and Bear deserve to become fixtures in the pantheon of Canadian characters who live in our imaginations," by which I picture the two of them and Anne of Green Gables bounding down The White Way of Delight.
My pictures aside, live on in imaginations these characters do. I finished reading the book the other day and have not quite discovered what I think of it yet. "I think it's a novel meant to be deeply considered rather than summed up in a sentence or two," is what I wrote on Sunday in an email to a friend. The novel is a peculiar shape, not quite what I am used to. I found it to be a page-turner, difficult to put down. It's a novel that moves through time and space almost as quickly as I moved through its chapters, and I have this theory that its plotted more as an epic tale than a novel. (The myth of Orpheus is referred to in the novel, in the form of the Sir Orfeo story, and it's intriguingly unclear exactly what maps onto what.) While Bo's journey is certainly inward, it is demonstrated by his outward journey, from plot to plot, place to place, quests, and battles, dragons slain. Characters are not delved into deeply, which is not to say that these characters are not interesting (Bo's teacher, his mother in particular, Soldier Man in High Park) but that their own journeys remain unclear to us, their mysteries suggested but not brought into light. There is a shallowness to the narrative which is intrinsic to its shape and to what Kuitenbrouwer is attempting (and succeeding at) in her project, which is breadth instead. This book about bear wrestling, Vietnamese boat people, CNE freak shows, and the production and effects of Agent Orange. You know?
Anyway, this is what I love, a book that provokes a more complicated response that either this is good or this is bad. I mean, this is good, of course, but even more importantly, this is interesting. And if I ever get to the bottom of what I think of All the Broken Things, I will be profoundly disappointed to be done.
Check out the book trailer for All the Broken Things by Carol Nguyen. It is also interesting, and absolutely stunning.