January 16, 2014
The Saddest News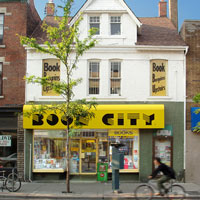 A few years ago, I misread a headline that Book City in Bloor West Village was closing as my local Book City closing (Bloor Street in the Annex), and was devastated for a moment. The relief I felt upon realizing my mistake was absolutely epic, but I always suspected that the moment was a glimpse of things to come. I've been lucky to this long stay immune to the indie bookshop closure plague, but it seems that my luck is finally up with the announcement today that Book City's flagship location would indeed be closing, and I cried and cried and cried.
Of course, one could say, the loss of a store is not a real thing. But then it is a real thing, which is the whole point of a proper bookshop. Real things are people, like Jen who phoned me yesterday afternoon to confirm my order for the collected letters of Penelope Fitzgerald. Like John, who has worked there since 1976, and everybody else who takes my special orders, rings through my giant stacks of books, rings through my customer discount without even seeing my card because they know my name. My husband went into Book City shortly after Iris's birth, and came home with a present from Rachel. I have tweeted that I'm coming in for a particular book, and they'll have it behind the counter for me by the time I'm at the shop. Such excellent, knowledgable, expert customer service, and all these people are going to be out of a job. I am so sad for each and every one of them.
We used to live in Little Italy, and it wasn't until we moved nearly six years ago that I realized what I'd been missing all my life: a bookshop just around the corner. It is the ultimate destination. I do all my Christmas shopping there, and if I've ever given you a book for any other occasion, that's where it's come from. Any time Stuart and I go out on a date, we make a late-night stop in. We took Harriet trick-or-treating there on Halloween. After Harriet was born, it was the first place I ever ventured. During Harriet's first year when I was bored and alone, I became a regular. The shop staff (Hi, Suzanne!) were some of the brightest spots in my life. Harriet wanders around the shop like she owns it, and I feel like she has grown up there. It makes me so sad that Iris won't have that experience. I have bought so many books because someone has been smart enough to display it at the counter knowing it was precisely what I wanted/needed. So many bookish discussions at the counter. Running into bookish friends in their natural habitats. On lazy Saturdays when we have to go somewhere, it is generally where we go. I look around my library and see that most of my books have come from there. Memorable visits, like the day Harriet bought Wonder Woman. Pre-ordering Donna Tartt and Zadie Smith, and getting my mitts on those books the day they come out. When we were on austerity measures after Stuart lost his job 3 years ago, and for Mother's Day my gift was to buy some books and it was such a pleasure. I love that whenever I've wanted a poetry book from a small press, I could be reasonably assured of seeing it on the shelf. I was so looking forward to The M Word being on sale there.
It has been an honour to pay full(ish–I had my customer discount after all) price for books in exchange for having an excellent independent book shop in my neighbourhood. I wish that more people could see how much we gain for such a transaction. Books cost money because they are items of value, and I think that in our society's hunger for deals and discounts, in that we have made everything about dollar signs, we have forgotten what value is. Anyone who has let Chapters/Indigo drive out their local indies will soon be sorry when that whole enterprise shuts down and they're left with no place to buy books at all. And then there is Amazon, who has seen fit to forfeit profit in order to ruin everybody else, but I promise you that their prices will no longer be so reasonable once they've finally achieved their grand monopoly. And how about conditions in their warehouses? Also, real things: Amazon does not qualify.
And I know I have been spoiled, to take for granted that I could walk around the corner and to pick up nearly any book I desired. There are those who will say I need to get with the times, who find my elitism repugnant, who find that Costco serves their book buying needs just fine, thank you very much. But those people must not know that they're missing. These are not the people I want designing our society. People who have never known how a bookshop really can be the heart of a neighbourhood, and what a hole is left when one disappears. All this is partly sentimental, which I think is what they call it when I despair about the loss of things that make me happy, but it is also practical–where will I buy my books now? I am fortunate to have some excellent specialty bookshops in my neighbourhood still, but no place for new adult books unless I go out of my way. And I guess what I've always liked about my life and where we live is that I've never had to go out of my way to buy a book. Book-buying has always been right there on the main thoroughfare, along with Sweet Fantasies Ice Cream. In short, life has been complete. I have been so lucky. I am not sure this is a bad thing and think it should be wider-spread, not rare. Can you imagine how much better and smarter the world could be if everybody had such a place around the corner to go?
It is shameful that the Annex will no longer contain a proper bookstore–how far this storied neighbourhood has fallen. And I implore some brave soul with capital to make a new venture, please. I promise to come and spend lots of money.
See also: Jon Paul Fiorentino on the need for fixed book pricing in Canada: "FBP may seem, to some, to be counter intuitive to the free market sensibilities we have in North America, but consider this: The book marketplace is one of the only marketplaces where vendors can return merchandise to their suppliers for a full refund whenever they want. Books are clearly not typical merchandise. They are as much cultural artifacts as they are goods for sale. In fact, books represent the source of our cultural and intellectual reality. So why should they be treated with the same notion of disposability as jeans or candy bars? FBP is good for bookstores because it levels the playing field and eliminates undercutting. It's good for independent publishers because it allows them to control their print runs, stay in competition with larger houses, and take risks on less popular but innovative and vital authors. It's good for authors because it secures a level of remuneration with regard to the fixed net price their royalties will be paid out at, and it's good for consumers because it diversifies the marketplace and gives them more options."