December 21, 2013
Love, Nina and Mutton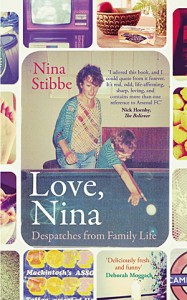 During our disastrous English vacation, I did manage to get some excellent holiday reading in, mostly because my mother-in-law's intensive grandmothering meant that I was on mother-holiday. And it was great.
I discovered Love, Nina: Despatches from Family Life when India Knight tweeted about it, a collection of letters by Nina Stibbe, a young woman from Leicester who moved to London in the 1980s and got a job working as a nanny for books journalist Mary-Kay Wilmers, editor of the London Review of Books. India Knight is the ex of Andrew O'Hagan, who blurbs this book, which is a fine glimpse into literati inner-circles. In the Guardian Best Books of the Year round-up, film director Stephen Frears cited the book, then said, "But I would say that since it's about my ex‑wife and our children. Letters from their Leicester nanny. Very funny and sharp." Another review called it "'Adrian Mole meets Mary Poppins" so you can see why I had to read it.
Imagine a sitcom in which everybody is writer, and Alan Bennett is the too-familiar neighbour. In fact, imagine any book in which Alan Bennett is a character at all, one who has dinner with the family (Wilmers and her two sons) every evening, and critiques Stibbe for her use of tinned fruits and vegetables in her cooking. There is mischief and hijinx, there is this unique community through the eyes of someone outside it blessed with a nice dose of realism (if a bit sweetly naive at times), character development and incredible dialogue. Mary-Kay Wilmers is a most formidable comic creation. These are Stibbe's letters home to her sister from during her early years in London, and they're absolutely delightful.
**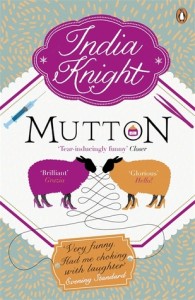 And then I read Mutton by India Knight, her fourth novel about alter-ego Clara Hutt. In this instalment of Clara's story, an old friend returns from years in America and she's looking younger and better than ever. What's her secret? Why yes, it's extensive plastic surgery (and yoga and she drinks a lot of water). Clara herself isn't getting any younger and she starts considering drastic measures on her own part. She'd always had these ideas about growing old gracefully, but that was before she started growing old, of course.
The novel is funny, rambling, and I adored every single digression, but then I can't quite get enough of India Knight and her novels which are basically extensions of her newspaper columns. Instead of plot, we are treated to "what India Knight thinks of everything", but for some of us that's absolutely the book we came to read.