November 20, 2013
CD GIVEAWAY! The Sounding Joy by Elizabeth Mitchell and Friends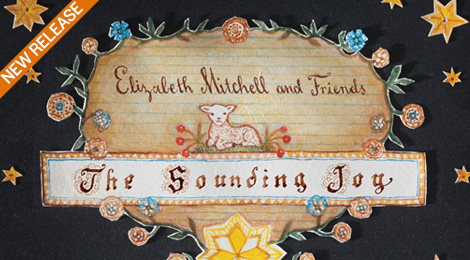 I fell in love with Elizabeth Mitchell's music when Harriet was a baby, and suddenly the whole world was a richer, sunnier place. Her music is the soundtrack to our family life, and I love that with her folk songs she gives us roots, but also keeps us rocking out to covers by Lou Reed, David Bowie, and Van Morrison. I love how she brought us Remy Charlip. "Alphabet Dub" on her You Are My Sunshine album is hands-down the best version of the ABCs ever.
Her latest is an album of Christmas songs, The Sounding Joy. And you can listen to a preview here, the song "Children, Go Where I Send Thee  (Little Bitty Baby: A Cumulative Song)".
More about the album for Smithsonian Folkways:
Grammy-nominated recording artist Elizabeth Mitchell releases The Sounding Joy, ann exploration of Christmas and solstice songs from the American folk tradition.  Drawn almost exclusively from the often overlooked but deeply influential songbook of revered composer and anthologist Ruth Crawford Seeger, these songs evoke an era before mass media and the commercialization of Christmas, when sacred song, dance, contemplation, and gathering were prized above all else during the holiday season. Mitchell's fifth album for Smithsonian Folkways, The Sounding Joy features husband Daniel Littleton, daughter Storey, and special guests Peggy Seeger, Natalie Merchant, Amy Helm, Aoife O'Donovan, Gail Ann Dorsey, Larry Campbell, Dan Zanes, and John Sebastian, among many other family, friends, and neighbors. This gorgeously reverent 24-song collection attempts to save these traditional American holiday songs from an "unmarked grave," as Merchant puts it in her essay included in the liner notes.

Although the songs presented are specific to the Christian tradition, Mitchell's husband Daniel Littleton cites the inclusive nature of the project, describing the assembly of musicians as an "ecumenical summit" of sorts, with participants of many religious and non-religious backgrounds coming together happily to bring the songs to life. Mitchell sums up the spirit of the album best in her notes: "However you and your loved ones celebrate the last month of the year, I hope it is filled with the sounds of joy."
And even better than news of a brand new Elizabeth Mitchell album? Why, that Smithsonian Folkways has provided me with a CD copy to give away to one of you. If you leave a comment on this post by midnight November 30, I'll include your name in a random draw to win the CD.
**Congrats to Suss. Thanks to all who entered. Hope you'll get your own copies. It's a really lovely album.