October 9, 2013
Sadness and Rainbows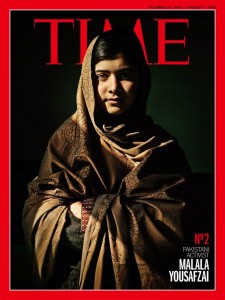 It's hard to believe that it's been only a year since Malala Yousafzai was shot, propelling her into the public consciousness, because I feel like I've always known her name. It was a name that solved a small problem of mine, the problem of why we no longer name our babies for heroes. I think we no longer name our babies for heroes because there are so few heroes, and heroes are so fallible that their names could become a burden. But it was different with Malala, whose miraculous recovery made her story a triumph. Now there's a hero, I thought–somebody brave, smart, articulate, young and inspiring. I love that she is living proof that nonviolence is more powerful than a gun is. I was early in my pregnancy when Malala's story landed on newspaper front pages around the world, and we decided that if our baby was a girl, we would name her after her.
Malala is a big name for a little baby to live up to, particularly our little baby, who is small, bald and funny-faced. It is Iris's middle name, and we call her both names sometimes because the name is so melodic, but it doesn't entirely suit her yet. I wonder what her connection to the name will come to be, though already it means something to Iris's big sister. She knows the story of Malala, how bad men tried to hurt her because they didn't believe that girls should go to school. She knows about Malala's bravery, the force of her nonviolence, and, most importantly, she knows that life isn't the same for girls everywhere as it is for her. Perhaps even that freedoms are not to be taken for granted.
The name "Malala" means "sadness" in Urdu, and even Malala Yousafzai herself has confessed that it is a hard name to carry for that reason. The meaning had me considering whether this was a suitable name to give my baby–particularly as her sister's second name is "Joy". But we decided to name her Malala anyway, because three remarkable women have had this name even with the sadness entailed: the 19th century poet warrior whom the modern-day Malalas were named after, Malala Yousafzai, and also former Afghan MP Malala Joya who Malala Yousafzai claims is an inspiration.
We gave her the name because sadness is part of the story, as an acknowledgement that there is still much to be overcome. But the sadness doesn't negate the light, the hope. The world is big enough to contain all of this.
But we did call her Iris too, which means rainbow. It's a fascinating name–a flower, a part of human anatomy, a song by not only the Goo Goo Dolls but also Split Enz (which I listened to over and over again while we waited for her to be born), Dylan McKay's mother, and a Greek Goddess. A good counter and complement to the sadness, I think, and she suits it (though has been perhaps unfortunately nicknamed Aye Aye, while she does not possess a special middle finger to fulfil the same ecological niche as a woodpecker).