September 26, 2013
Our Complete Childcraft How & Why Library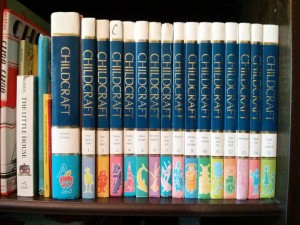 It was almost two years ago that I found a near-complete set of encyclopedias out on somebody's curb, and schlepped them all home in our stroller (which later fell apart, and this may be part of the reason why). The books were the Childcraft How & Why Library, which is basically the whole universe printed and bound circa 1987. Three books devoted to literature (nursery rhymes, poems, myths, fairy tales, and also contemporary stories), and then others about space, plants, animals, math, crafts, world cultures and more.
I am very excited that I finally purchased our two missing volumes online (one of them for a dollar, no less) and that our Childcraft set is finally complete.
The photos are dated and the print a bit faded, but we love these books, and because my child has been raised on faded picture books, this deficiency doesn't even register. These books have become our first stop for information, because research here doesn't seem to suck us into a vortex of inanity as the internet does. And truth be told, our family loves any excuse to curl up on the couch with a book. We've learned about clouds (which means we get to say "cumulonimbus", which is always fun), beetles, human digestive tracks, molluscs, the solar system, and so much else.
That the books are a little out of date is actually useful too. Pluto, Harriet knows now, is no longer a planet after all, and I love what that knowledge represents. She realizes that not everything written down is immutable. That the universe is not static. That the world is ever-changing and wild, infinite in its wonders.