June 2, 2013
Reading Barbara Pym on her Centenary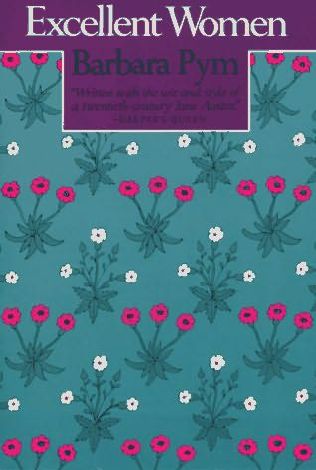 I have nearly all of Barbara Pym's novels on my shelf, the bulk of which I obtained when a contents sale was held at a house around the corner and I pretty much cleaned out the library. And this is how it is with Barbara Pym novels–it usually takes death for a reader to finally part with them. Though they also turn up at used book sales from time to time (probably after a death as well), which is how I first encountered Excellent Women, perhaps Pym's best-known novel. I'd heard of Pym from Susan Hill's Howards End is on the Landing, Maureen Corrigan's Leave Me Alone, I'm Reading and also from this wonderful piece on the CBC on the Barbara Pym Society, which I joined shortly after becoming a Pym convert. It was Excellent Women that fast turned me into one too, and no wonder, I discovered, over the past few days as I read the book again.
It's wonderful. I could see how encountering Pym first through some of her other novels might be a less delightful experience, one not truly appreciated until one understands the nature of the Pymmian universe. But Excellent Women, as subtle and small as her other books, is so absolutely funny, its goodness immediately graspable. As ever, the delicious gap because what is written on the page and the reader's apprehension of the true situation. It's the story of Mildred Lathbury, spinster daughter of a clergyman whose life changes with the arrival of new neighbours Rocky and Helena Napier, plus a clergyman's widow who steals the heart of the vicar whom everyone had assumed that Mildred was in love with.
And the lines: "A little grey woman… brewing coffee in the ruins." The austerity of 1950s' England is not at the novel's forefront, but instead a shadow in the background with references to bombed-out buildings, ration books, and bad food. But ordinary life goes on anyway, church services conducted in the half of the church that was not destroyed in the war, which gives the congregation a heightened intimacy.
And the vicar with his plaintive call: "May I come up? I can hear the attractive rattle of tea things. I hope I'm not too late." Oh, so much tea. "Perhaps there can be too much making cups of tea, I thought, as I watched Miss Statham filling the heavy teapot. We had all had our supper, or were supposed to have had it, and were met together to discuss the arrangements for the Christmas bazaar. Did we really need a cup of tea? I even said as much to Miss Statham and she looked at me with a hurt, almost angry look. 'Do we need tea?' she echoed. 'But Miss Lathbury…' She sounded puzzled and distressed and I began to realize that my question had struck at something deep and fundamental. It was the kind of question that starts a landslide in the mind."
There are so many landslides in this tidy book, whose whole world is turned inside out by its final page. Most aren't the landslides you'd notice and it doesn't end with a wedding (though a further glimpse of these characters in another Pym novel reveals that one will come about eventually!!!), but more with a change in consciousness, the main character's heightened awareness of her place in the world. And it's a funny little world too, quintessentially English, rattling tea things and all. How I adore it, absolutely.
This past week, I also reread A Glass of Blessings, which is more subtle and infused with a touch of melancholy in spite of its delights. So many musings on a furniture storage facility–such a curious book. A bored and idle married woman fancies herself the object of another man's affections, though he turns out to be gay (which is as expressly stated as you'd imagine for a book published in 1958). Pym is truly the master of the unrequited love narrative.
I do look forward to much Pym rereading this summer. I've read most of her books in a pleasurable blur, and welcome the opportunity to think deeper about them. I also look forward to baking a victoria sponge cake this afternoon in celebration of her centenary. It's either bake a cake or have a baby, and the latter doesn't appear to be happening yet.