April 14, 2013
The Douglas Notebooks by Christine Eddie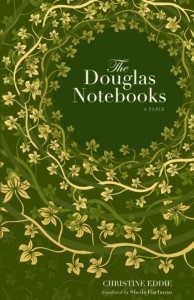 I was attracted to The Douglas Notebooks by Christine Eddie first because it is a beautiful object, a small and lovely book whose cover is adorned with blossoms and brambles that wind their way throughout the book entire.  I was attracted to it also because the book in its original French had been the recipient of several literary awards, and French Quebec fiction is such unexplored territory for me. I welcome Goose Lane Editions publishing this English translation (by Sheila Fischman), widening my literary landscape as they did by publising Australian lit-award winner Night Street by Kristel Thornell last year. What a service to English Canadian readers to bring us these books we mightn't encounter otherwise.
The Douglas Notebooks is branded "a fable", which I'll admit did not attract me to the book. I like my novels in the here and now, thank you very much, peopled by people instead of scurrying creatures. But "fable" here is a label loosely applied (for example, there are no talking rabbits, and apparently fables are meant to have morals but I'm not sure what the moral is here), and I often find that any novel I read in translation has an element of "fable" about it anyway, or at least sone kind of otherness. Here is not the novel in the shape I know it, I mean, and they always seem a little bit otherworldly. I have to judge a novel in translation  on its own basis as well, and not based on what I understand "the novel" to be in my own limited experience of the form.
Which is not to say that The Douglas Notebooks is difficult to approach as a reader, or that I had to work hard to enjoy it. On the contrary, it was an easy book to slip inside, a fast and lively read. It seems out of place and out of time, situated in a village that doesn't appear on a map and that for most of the book remains out of touch with progress and the rest of the world, though there are indications–the telltale tattoo on the schoolteacher's arm, for example, which situates the book inside history. It's the story of Romain, the son of a rich family who escapes them as soon as he can for a solitary life in the woods where he can be free. He enounters Elena, who has fled her violent homelife and made an apprenticeship with the village "pharmacist", learning from her natural and herbal remedies for illness. But Elena leaves the pharmacist to make a life in the woods with Romain, who has since been remamed Douglas, for the fir tree. When Elena becomes pregnant, the couple feels as though their dreams will be fulfilled, and that with their child they will create a new world and a new way of life far removed from the trappings of society. But plans go wrong, and the result is heartbreak.
Brought into their fold are the local doctor who had loved Elena from afar, and the schoolteacher who had always been an outsider in the community, as well as a tamarack tree with mythical properties. In the centre of it all is the baby Rose, and the love that is wrapped around her like the brambles on the novel's cover, both protection and a trap.
The Douglas Notebooks is a peculiar book, a tricky thing, and I'm not surely I've completely made sense of it yet. Why it's a fable, for example, and what it means that this very rural book with all its natural elements (including, most wonderfully, a reverence for trees) is sort of structured cinematically, with the novel broken into sections with titles like "Wide Shot", "Fast Motion" and "Close-Up" and even "Credits (in order of appearance)" as the book's conclusion. But the unanswered questions are not unsatisfying, rather they underline for me in this slim and quiet book are just depths I haven't plumbed yet.