April 9, 2013
Life After Life by Kate Atkinson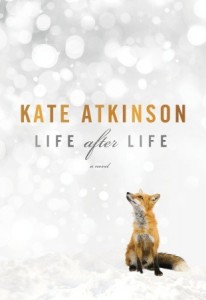 I never got over Behind The Scenes at the Museum, Kate Atkinson's first novel which won the Whitbread Award in 1995 ("'A 44-year-old chambermaid won one of Britain's leading literary awards last night," the papers shouted just after the fact.) I never got over Ruby Lennox, narrating her book's triumphant opening sentence: "I exist! I am conceived to the chimes of midnight on the clock on the mantelpiece in the room across the hall…" I read the book a decade after its birth, but became a devotee of Atkinson's work immediately. Behind the Scenes… contained the line which is basically my life's philosophy: "Albert collected good days the way other people collected coins, or sets of postcards." I read all her other books, and then Case Histories came out, and it would be my gateway to a love of detective fiction. But I didn't have a thing in particular for Atkinson's detective, Jackson Brodie. Not the way that some did. I loved Jackson Brodie and his books because Kate Atkinson had written them, and I'll read anything that she writes.
I was ecstatic to learn, however, that her new novel would be a return to straightforward literary form. Well, not straightforward exactly, because Atkinson makes a point of taking form and exploding it into a million pieces. There is nothing at all straightforward about Kate Atkinson's fiction, and what has always delighted me most about her literary novels is how covertly they're all detective novels as much as Case Histories et. al. That there is ever such mystery at the core of her books–ghosts and dead bodies and things unexplained.
What is explained, however, what most readers will know because they start reading is that Life After Life comes with a gimmick. Think Sliding Doors and The Post-Birthday World, though not with parallel lives exactly but an array of them instead, strung together like a garland of paper chain dolls. Ursula Todd comes to life, then she dies, and then she's born again and again, after each death returned to her beginnings, that night in 1910 when she comes into the world during a snowstorm. But then this isn't even really the point, and here's what allows Kate Atkinson to defy the bounds of genre: the point of this book isn't the fantastic, but that it was written by Kate Atkinson and she's wonderful.
I began this book with a strange sense of deja-vu (which was funny in itself because deja-vu is what it's all about) because it reminded me so much of AS Byatt's The Children's Book, which I read four years ago when I was even more ridiculously pregnant than I am right now. The same depiction of the Edwardian middle-class family in a rural idyll (Todefright Hall vs. Fox Corner) with more children that it knows what to do with, some of whom are suspected to not really belong. And the banker father, fairy story references, connections to Germany. Both novels are setting out to do vastly different things, but in Atkinson's I sensed an echo of the Byatt, and I loved that.
Ursula is born, Ursula dies, and then Ursula is born again, and while Atkinson does not explicitly spell out Ursula's consciousness of her situation, her actions portray a dawning awareness that there is more to her life than just this one. This awareness manifests as strange sense of dread when she is young, that keeps her firmly on the beach where she'd drowned just a short lifetime ago. Her plight turns comical as she attempts numerous time to prevent her family's maid from attending WW1 victory celebrations at which she'll encounter the Spanish influenza and go on to infect Ursula and her beloved younger brother. Ursula eventually resorts to pushing her down a flight of stairs (thus saving the day), and ending up on a psychiastrist's couch. Her parents are concerned with her oddness, her propensity for deja-vu.
Ursula comes up with clever ways of avoiding her previous mistakes, managing to make it through the 1920s and '30s and only dying a handful of times. She falls in love, she has affairs, she stays single, she suffers a disastrous marriage, she is disgraced, she triumphs, she falters, and then is born again, determined to make her way. The connections and disconnections between Ursula and her siblings are particularly compelling. World War Two, however, proves to be an enormous impediment to Ursula's lifeline. Again and again, she finds herself killed in the Blitz, and when she finally manages to skirt her particular explosion, other complications present themselves. Her fate seems determined to find her no matter how she goes out of her way to avoid it.
There is texture to a book like this, and the pleasure of seeing secondary characters from a wide variety of angles–Ursula's mother in particular whose role in the novel's conclusion was ingenious. Life After Life is a long book, as befitting a life lived over and over again, and I savoured its slowness, the returns to where I'd been before, places and people I was happy to revisit. I appreciated the specificity of its detail, the brilliance of its writing, its genre-blurring, its daringness in reframing the shape of a narrative, and yes, this is Kate Atkinson, so there is going to be that too.