March 13, 2013
Good things take place.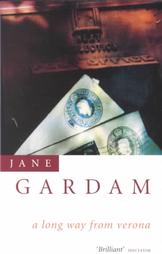 I'm now reading Elizabeth Hay's A Student of Weather, because it's been sitting on my shelf for ages and because it's mentioned in Isabel Huggan's Belonging (and is blurbed by Huggan herself–I will read anything with Isabel Huggan's name on it). I was leafing through it and was excited to see it contains a quotation from Jane Gardam's Crusoe's Daughter, everything seeming so circular because I read Gardam's A Long Way From Verona on the weekend.
I am not sure what it says about my intelligence (or, on the contrary, I know exactly what it says…) that Jane Gardam's novels which are supposedly for young readers are those with which I've most appreciated. I've liked all her books, but they are all so strange. Or maybe what I mean is that Gardam throws her reader into the deep-end and one has no choice but to swim, swim, swim, and sometimes with all that frantic motion it is hard to really appreciate one's surroundings. But I didn't have to tread water as much with Bilgewater and A Long Way from Verona. These books also make it a bit easier to see what Gardam gets up to, and understand the other books–so much is withheld, truths aren't necessarily so, narrators are unreliable.
Anyway, I loved A Long Way from Verona, though mostly for non-literary reasons. A few days ago, it occurred to me that there was an enormous chance that everything was going to be all right in terms of my health, and I've been feeling much better since then. And the end of the novel just underlined everything I'd been thinking, and hoping for (plus there is a postbox on the front cover of my copy). The last line is, "But like at the Novelty Machine, I just felt filled with love, knowing that good things take place."
Indeed.
I was surprised to have a good night's sleep last night, but I'm so glad I did, because the procedure was really not worth losing sleep for. I liked the surgeon who was really nice, and Stuart held my hand while he performed the biopsy (which apparently was totally disgusting, and I am sorry I didn't get to see it. I always miss it when they pull things out of my body, and must rely on my husband for full reports). I do not have to wait for results, which is so good as it means we can enjoy the rest of our March Break week. I have an appointment to go back in two weeks to discuss results with the doctor, who told me that he thought the lump seemed pretty innocent. And I imagine that surgeons don't say such things lightly. Sooner or later, and somehow, it seems that everything is going to be okay.