March 7, 2013
Ascent of Women by Sally Armstrong
"I hope readers will see that the situation is changing everywhere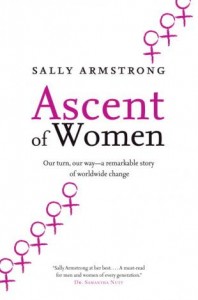 . It's time for all of us to say, "No more" and to go to the barricades—and to claim our space."–Sally Armstrong in my Q&A with her at 49thShelf.
For those of us who aren't Sally Armstrong, those of us who haven't spent the last 25 years bringing home stories of violence against women, subjugation of women and the trampling upon and disregard for women's rights all over the world, the immediate impression of Ascent of Women isn't that this is a  book about hope and change. Instead, it's overwhelming to consider that the plight of women in so many places is so terribly dire: scores of Aboriginal women missing and murdered in Canada while police did nothing; the idea of rape as a weapon of war, and that female populations of entire villages in the Congo have had to live through this violence; a fire at a girls' school in Saudi Arabia during which students died because they weren't permitted to escape the blaze with their heads uncovered; the endangered lives of women in Afghanistan under the Taliban; "honour" killings; young girls forced into early marriage; genital mutilation practices, and on and on.
My immediate impression of this book is testament to another point that Armstrong makes: that for the last 25 years as she's been reporting these stories, the world hasn't done a terrific job of listening. She gives a shocking story of an editor who "forgot" to follow up on a story she'd brought him of 20,000 Muslim women being gang-raped in Bosnia in 1992. I know that Armstrong was reporting on the Taliban when no one else was, long before September 2001 when the world finally turned its attention toward Afghanistan and feigned to care for what happened to the women of that country.
But things are changing, which is Armstrong's thesis in Ascent of Women. She connects this tide of change to the awareness that dawned on Western Women in the 1960s and '70s that the status-quo was no longer acceptable. She cites examples of women all over the world who are effecting change in their communities by standing up to patriarchy and tyranny. In Kenya, 160 girls are in the process of suing their government for failing to protect them from rape; women in Afghanistan have dared to question interpretations of the Koran; the idea that violence is cultural is starting to be undermined by women speaking out against this bogus "culture"; unique programs are being put in place to empower people to change their own minds about approaches to women's health; economists are demonstrating that women's financial empowerment is the key to progress in developing nations; grandmothers supporting AIDs orphans are coming together to support one another in South Africa; women who fought for change in Egypt during the Arab Spring are refusing to take a place on the sidelines of the revolution they brought about.
Armstrong's book is powerful, profound and inspiring. Its organization is a bit haphazard, but then this haphazardness underlines Armstrong's point: that something is happening here, and not even systematically, but in an organic, surprising, awe-inspiring fashion whose force is, amazingly, impossible to contain.
Check out my Q&A with Armstrong, along with an excerpt from her book.