February 11, 2013
News!! Truth, Dare, Double Dare: Coming in April 2014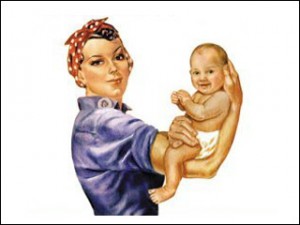 I started talking about motherhood three and a half years ago, joining a conversation that I'd never supposed could be so absorbing, perplexing, and reflective of larger issues and politics. And as I talked about motherhood more and more, it began to occur to me how alienating was that conversation to so many other women, whether they were mothers themselves, or had wanted to be, or had become mothers in ways that were less than straightforward, or had never wanted to be mothers at all. I started to see how the motherhood conversation was not nearly wide enough to encompass women's diverse experiences of motherhood, and maternal things. I began to see how understanding the various relationships that women have to motherhood could tell us a lot about about women's lives today, the real nature of "choice", and how far feminism has brought us (or not, in some cases).
It all started with my friends, really, whose experiences of infertility, adoption, abortion, maternal ambivalence, miscarriage, being child-free were so absolutely ordinary in so many ways, but were also represented as being far outside the bounds of the motherhood conversation. I wondered if there was a way that these experiences could be included in a broadened conversation, along with stories of stepmothering, grandmothering, single motherhood, other relationships with children that weren't necessarily biological, having many children, having only one, having children die, worrying about having children die, exercising choice, or having choice taken away from you.
It was last December when I was talking about this with my friend Amy Lavender Harris, and she said, "This would make a really good anthology." That night, I got to work emailing women writers I knew whose stories fit the bill. I spent last winter and spring contacting writers, so many of whom responded with complete support for this project. I spent the summer writing my own piece (over four amazing days at the Wychwood Library, during which I listened to "Call Me Maybe" on repeat) and was constantly aglow with the idea that all over this country were brilliant women were busily at work creating this book with me. They sent me their essays and they were wonderful, and I spent late-summer and Fall putting the pieces all together.
And now I am happy to report that the news is official. Our book, Truth, Dare, Double Dare: Stories of Motherhood will be published in April 2014 by Goose Lane Editions, whose people have been as supportive of this project as I could have dreamed of. Key champion has been my agent Samanatha Haywood–I feel so lucky to have her in my corner. And my mind has been blown by the generosity and brilliance of the women who came together to make this book possible: Heather Birrell, Julie Booker, Diana Fitzgerald Bryden, Myrl Coulter, Christa Couture, Heather Cromarty, Nancy-Jo Cullen, Marita Dachsel, Ariel Gordon, Amy Lavender Harris, Alexis Kienlen, Fiona Tinwei Lam,  Michele Landsberg, Deanna McFadden, Maria Meindl, Saleema Nawaz, Susan Olding, Alison Pick, Heidi Reimer, Kerry Ryan, Sarah Yi-Mei Tsiang, Carrie Snyder, Patricia Storms, Zoe Whittall and Julia Zarankin. Each of these writers has underlined the one thing I've always been sure of, which is that women are absolutely amazing.