January 30, 2013
The House on Sugarbush Road by Méira Cook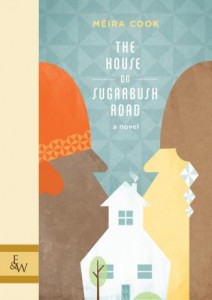 There is no expressway into the Johannesburg of Méira Cook's novel The House on Sugarbush Road. Instead, the roads are twisting and clogged with traffic, detritus, pedestrians on the roadside calling out in a language you don't understand. This is a novel that is disorienting to encounter, hard to get one's bearings in; the reader travels blindly along these foreign streets, trusting in the story and its teller. And as the story progresses, the trust builds. While The House on Sugarbush Road is Méira Cook's first novel, she is widely published (and lauded) as a poet, she worked as a journalist in her native South Africa, and her prose gorgeously reflects the former while her novel's approach shows the latter. The effect is brutal, surprising, and provokes an incredibly visceral reaction.
This novel was not what I was expecting. Perhaps it's the sweetness of "sugarbush" but I was all set for the Africa of Alexander McCall Smith. And a wildly unpopular opinion, which I continue to hold, is that his Precious Ramotswe books are terrible. This was also set to be another book about the complicated relationship between a Black maid and the family she's been loyal to for years and years, but my goodness, you don't know from complicated. Beauty Mapule, like every other character in this book, is as imperfect as she is true. This is Johannesburg in 1994, just post-Apartheid, but this also means the flip-side of revolution–that the whole world has gone to pieces.
This brokenness and devastation is reflected in the house on Sugarbush Road where Beauty has lived and worked for 40 years in the deaths by car accident of Ilse and Meneer du Plessis, her employers, which occur not long before the story begins. Left behind is the elderly grandmother Ouma who is as much as a relic of another time as the house itself is, and Benjamin du Plessis, the son, who has returned from abroad because he doesn't know what else to do with what his parents have left behind.
And Beauty Mapule, she hates him. She makes a point of of serving him the most paltry or gristly food portions, steals his pocket change, does whatever she can to make his existence as uncomfortable as possible. She glories in her power here, though she cannot articulate exactly her motivations. She thinks Benjamin is oblivious, but he isn't. He just doesn't know what to do about it, this woman who had loved him as a child alongside her own child, and who now makes clear her distaste and scorn.
It is easy to assume that the loss of Beauty's own child, however, has everything to do with her behaviour. Her daughter Givvie, christened Given, who was taken in an episode of violence that was shockingly common at the time. Her son Lucky certainly fared better in his life, but the life that he has made for himself has little room for a mother who is a domestic servant. He wants nothing to do with his eldest son either, the product of an earlier relationship, and so Beauty has been left responsible for her grandson as well, who has turned out to be a complete disappointment.
Beauty's stepdaughter, who has found being five months pregnant does nothing to deter the advances of the men who continually become besotted with her at first sight, finds work with Ouma's daughter, Magda, whose previous maid had disappeared along with most of Magda's worldly goods not long before. The father of her child is a shady but charming businessman with shades of the devil himself who becomes embroiled in the lives of every character in the novel eventually, the one element that connects in a place where so much has fallen apart.
The House on Sugarbush Road is scattered with phrases in a cacophony of languages, and there is not a glossary to be found. And I love that, that we're expected to find our own way through this wild book, that Cook doesn't provide us a guided tour, an opportunity for gawking, for spectacle. We have no choice but to be utterly absorbed in the novel, an experience which becomes devastating toward the novel's conclusion, which is brutal, inexplicable, the opposite of everything we're trained to expect from a story.
Except the very best stories, of course, which defy expectations. And so it goes with this one.