January 23, 2013
Mini Reviews: Crusoe's Daughter & Stupid Boys Are Good to Relax With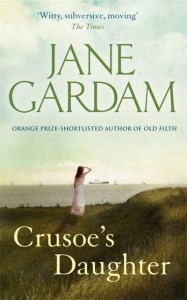 Jane Gardam always catches me off-guard, one of those authors who operates without real precedent and so whenever I pick up one of her books, it's never what I'm expecting. I read Old Filth about two years ago, and found it incredibly bizarre–so traditional its Englishness and its subject matter, but its treatment was a bit like a fun-house mirror. I've made more sense of what Gardam is up to since reading this wonderful essay on Crusoe's Daughter, which posits that Gardam "has, more successfully than most novelists, navigated the narrow stream between the stingy shores of modernism and the grand cliffs of the nineteenth century novel."
I bought Crusoe's Daughter (though was disappointed not to receive this edition, whose cover I adore) after Martin Levin noted it as one of his top reads of 2012. I wish to better understand Gardam and her work because it intrigues me so, and also because her admirers tend to be really brilliant readers. It's the story of Polly Flint, the daughter of a sailor who is sent to live in a yellow house by the sea with two eccentric aunts.  The first passage in the book I underlined was a description of a view of trees from a train carriage: "The light showing through them made them look like loops of knitting pulled off the needles." Oh, can Jane Gardam ever write. And then the line appears again, inconspicuously, closer to the end of the book. There is real method in the construction of this book, which reads as old-fashioned from a distance. Crusoe's Daughter is actually a novel about novels, or one in particular. In her isolation in that strange house beside the sea, Polly finds escape and company in Robinson Crusoe, whose character's own isolation she identifies with: "He didn't go mad. He was brave. He was wonderful. He was like women have to be almost always, on an island. Stuck. Imprisoned. The only way to survive is to say it's God's will."
There was so much going on in this book that I didn't wholly understand or appreciate, and I've never read Robinson Crusoe which probably means I missed even more than I'm aware of. But I was still captivated by the oddness of Gardam's narrative, by the oddness of Polly herself (who does go mad but only for a little while. She eventually finds salvation teaching Robinson Crusoe and English Literature at a boy's school). I'm not wholly converted to Jane Gardam yet, but this novel was as such that I'm not going to stop reading her until she finally takes.
**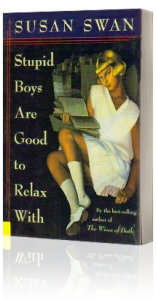 I don't know that I've ever been as stupid than the year I was twenty-one, when I came across Susan Swan's Stupid Boys Are Good to Relax With while shelving books at the university library. I was drawn to the title immediately, of course, as stupid boys were a habit of mine at the time, not just because I was stupid myself (though this was part of the reason) but also because I hadn't realized I could do any better. Perhaps I thought the title might justify so many of my life choices at the time? But I was so stupid the year I was twenty-one that I didn't even know how to read a short story collection. I think I was too young to appreciate what Swan was up, and I don't think I got very far with the book at all.
The best thing about re-encountering a book is that it can be a testament to how far one has come. I would love for this momentum to continue, for my intelligence to be increased by the time I am 45 to the same extent it has improved in the last 12 years. Though that might just a peculiarity of one's twenties; is there any other learning curve so great? Yes, my taste in men has come a long, long way, but  I am also such a better reader now.
Stupid Boys Are Good to Relax With is remarkable for being a book published in 1996 with a laptop computer on its back-cover, with a whole section of the book called "Cyber Tales", written as a conversation on the internet. In 1996, I wasn't as stupid as I was when I was 21, but I don't think I'd ever used the internet. How amazingly forward thinking was Stupid Boys…, which walks a very fine line of being very much of its time but not being dated. I was trying to explain the difference between the two, and I think it comes down to Swan having been aware of the use of technology in her work, and intending it to mean something other than just "modern" (which it most definitely wouldn't be just a few short years along).
Stupid Boys… is a collection of stories about the way women construct their lives and identities of men undeserving of such an honour (and who are often even unaware they're so being honoured). Using traditionally structured stories (including some narrated by the famous Mary Beatrice Bradford), and more unconventional tales peopled by characters from classical literature and pop-culture, Swan writes about the compromises women make, and the pleasure and pain of such choices. It's also a surprisingly remarkable complement to Caitlin Moran's How to Be a Woman, which is the book I read immediately afterwards.