January 13, 2013
Is speculative fiction my "can't read"?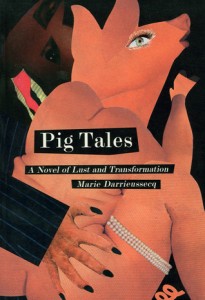 In June, I wrote this:
"Against Domesticated Fiction, or The Need for Re-Enchantment" was an essay by Patricia Robertson in Canadian Notes & Queries 84, in which Robertson decried contemporary writers in general for their failure to imagine the world beyond the individual, and the failure of contemporary writing to be anything but tedious. Hers was an inspiring argument, even stirring, and yet… I'm not yet tired of the kind of novel she's maligning. Domesticated fiction remains what I most want to read, and I'm not nearly finished with it yet. And I don't even have a good argument as to why this should be the case, except that I think that with the reader taking an imaginative leap, domesticated fiction can do as well as the fantastic, or any other kind of literature, to "incorporate some of the wildness, the strangeness, the mystery of the world around us." To show that we are indeed "participants in a vast web of being."**
Last week, Kyo Maclear published a fantastic essay at 49thShelf shelf about embracing "the bad read", celebrating the kind of fiction that doesn't go down easy. She wrote, "Yes, bring on the bad reads. Bring on those lousy good-for-nothing novels that embrace novelty, possibility, and surprise. Let's hear it for god-awful fiction that believes anything can happen—that captures the weird, the awkward, the complicated, the downright bizarre…you know, the really real…in all its ghastly glory."
Her argument was not dissimilar from Robertson's, but Maclear came at it from a different point of view that made me less defensive. First, because she does that brilliant thing that critics never do wherein she celebrates one thing without necessarily denigrating another. And also because her point of view is similar to mine, as a reader and writer of "lyrical realism." Her rallying call stirred my heart, and every part of my brain registered how completely right she was. How could I feel any other way, considering how often I am frustrated by readers' refusal to be challenged by fiction? And yet, I could only be stirred so far. I don't know who or what could ever compel me to pick up a porcine allegory, let alone an erotic one. (I'm still too afraid to read Tamara Faith Berger's Maidenhead, for heaven's sakes.) I want to be challenged, but I don't want to be that challenged.
And isn't that what we all find ourselves saying? When we throw up our arms and plead, "I'm 21 weeks pregnant with a small child and I only get the tiniest blocks of time to read in every day. Kindly leave me to read what I like. No sex pigs, please." So yes, part of it is that I'm perpetually tired, as perpetually tired as every single human being on this planet is, but another part is that I cannot bring myself to be interested in a story unless human beings on this planet are what it's addressing. Not just with books either–I can't watch animated films unless its characters are people. I just don't care. And I just don't care about books depicting other worlds  either, or other versions of this one. I liked A Wrinkle In Time, but only when they were at home, for example. The only part I liked in The Princess Bride is when Fred Savage is reading with his grandfather.
So now I'm doing that thing, denigrating an entire genre, but I'm not actually. I'm just clarifying the enormous gulf that lies between me and the kind of "bad reads", anything's-possible book that Maclear recommends. Perhaps if I weren't too tired, I might do well to pick up some books from Leah Bobet's Speculative Fiction Titles for Literary Readers list. Maybe what I'm suffering is not so attitudinal as a lack of a bridge? Why am I so afraid to take a leap?
But it's not fear altogether. I'm not scared of speculative fiction necessarily (though the sex pigs, yes, sound terrifying) but I just don't quite see the need for it. I'm still not finished with this world yet, and I don't know that fiction is either. And while it's a stunning achievement to construct a new universe, I think that any fiction writer does that whenever she sits down to write. I think that realism is perfectly capable of "embrac[ing] novelty, possibility, and surprise". That last year, books by Anakana Schofield did this, and Zadie Smith, and Lauren Groff (though yes, she's a genre blurrer at heart), and Annette Lapointe did this. Even Carrie Snyder's book And these are the books I will challenge myself to read, though they don't go down as easy as, say, A Large Harmonium by Sue Sorensen (which is so so so wonderful. Have I told you that lately?). For me, these books aren't necessarily "good-reads" and they have passages and sections I have to read over and over to understand and appreciate what's going on. Maybe one woman's good-read is another's bad-read, and speculative fiction is my "can't read"? And really, what is reading for? And for whose sake? Do we have to save the world with book we pick up? And why ever wouldn't we want to? And who'd ever have the time?
As ever, I've got no answers, but I look forward to more circular arguments and frustrations in a forthcoming post on Olive Kitteridge, naturally.
**Interestingly, there are responses to Robertson's piece in the latest issue of CNQ. I haven't read them yet, but look forward to doing so.