January 2, 2013
My Christmas with Caitlin Moran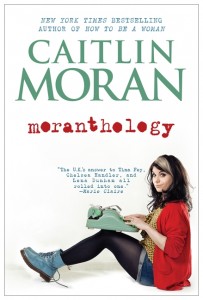 It is never Christmas properly for me unless I get to spend most of the day curled up on my mother's sofa reading a book. This year's book was Caitlin Moran's Moranthology, which I received in hardback from my sister-in-law, which was only fair because I turned her onto How to Be a Woman last year. It's a collection of Moran's columns from the Times from over the years, interviews with characters from Paul McCartney to Lady Gaga, synopses of episodes of Sherlock and Downtown Abbey, celebrity gossip notes, and columns of wider social significance–on poverty, feminism, activism, and more. Moranthology is clearly more a collection of newspaper columns than a book proper, but for those of us who have fallen in love with Caitlin Moran, it makes a fabulous read.
The other book I got for Christmas was Astray by Emma Donoghue, from Stuart who was determined to buy me a book I hadn't asked for, a surprise book. He went through my 2012 Books Read list, examined my shelves (to-be-read and otherwise), and had my Book City account checked to ensure I hadn't bought the book and hidden it. As Harriet ended up telling me what all my other presents were (a cast-iron enamel pot and a tea towel), the book turned up to be my only surprise at all, and it was a lovely one.
I have also just realized that ten years ago, I never would have imagined that receiving a cast-iron enamel pot and a tea towel for Christmas would thrill me as it did, but it did! Though mostly because the tea towel is of the Barbara Pym variety. My husband is wonderful man indeed. And I guess a decade is a long time to change in.