December 19, 2012
The Fairy Door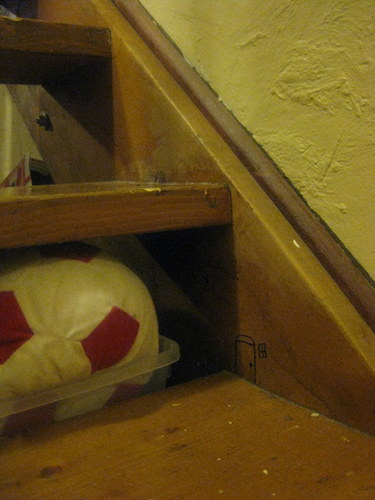 For me, the blogosphere has always been about inspiration, new discoveries, things to learn, and people to learn from. And while very often I'm unable to measure my own life up to those seemingly perfect ones I find online (I can't decorate a cake for shit, my knitting is always wonky, and if I had a lifestyle blog, it would be called "Cluttered and Dusty"), I usually come away better f0r these encounters. My life is so much richer for what other bloggers have shown me to strive for over the last decade.
Sometimes these bloggers make it all seem so hard though, out of reach, or perhaps they are just underlining the very things my own world is lacking (like an expensive camera, patience and artistic ability). I'm here to show you, however, that none of these things are really necessary to create a little magic in your lives, and the Fairy Door is case in point. Now, Fairy Doors are amazing. I think I heard about them while I was pregnant with Harriet, and I loved the idea of a tiny portal, a door to nowhere and anywhere, of a secret world beyond our own. I wanted that kind of everyday magic in our household, an otherworldly realm to believe in. So at some point in Harriet's first year, I "built" one.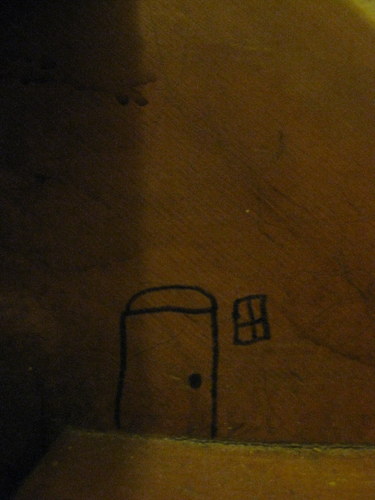 According to Pinterest and other fine sources, a Fairy Door is a beautiful thing. Apparently you can buy accessories for it. It's one of those projects I would never ever have accomplished, or even tried, except that I made mine without a template. In fact, I made my Fairy Door without anything except a Sharpie marker, and it's not beautiful, and my stairs are really dusty, but I promise you that neither of things mean that my daughter believes in the fairies any less.
Somewhere along the line, our Fairy Door became the home of the Hoopty's, Mr. and Mrs. Hoopty and their daughter Harriet Hoopty who have been identified our own family's reflections in the kitchen windows while we eat our dinner. (They must shrink down when they go home.) They have a younger child, a son called Hando, and they've also taken in Cousin Dupa since his parents disappeared and his babysitter died. Apparently, they've also just had a new baby, christened Butterfly, and it must have been a high-risk pregnancy because Mrs. Hoopty was in the hospital for 7 weeks. She's been reported to be fine though.
Anyway, it doesn't have to be as difficult as it appears, parenthood. Which is not to say that it's easy, but there really are so many wonderful things for which almost nothing is all that's required.