November 13, 2012
Where Are the Parents? 8 Excellent Books about Inattentive Moms and Dads
(Exciting note! This is my first cross-post to the excellent Bunch Family site. Hope you enjoy, and check out the scene there as well.)
They are useful, books about inattentive moms and dads. They prepare children for independence and allude to parents having their own complexities and places in the world beyond the family. A parent-free universe also paves the way for marvelous fictional adventures.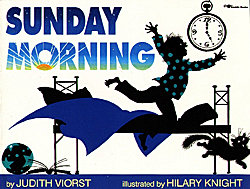 Sunday Morning was created by kid-lit royalty, Judith Viorst of Alexander and the No Good Very Bad Day and Hilary Knight, who drew Eloise. Fantastic silhouette drawings show Mom and Dad stumbling home after midnight, re-tucking the kids into bed and making them promise not to make a peep until 9:45 am ("and we'll tell you when that is"). The rest of the story is about the kids creating havoc in attempts to entertain themselves, ("We colour. We paste. We build a tower higher than my bed") with a parent calling out from the bedroom, "Some boys are going to be spanked" every few pages. It's a story of sibling tension, imagination, fun, and the happy ending of well rested parents.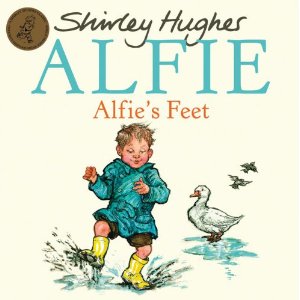 In Alfie's Feet, by the wondrous Shirley Hughes, the parents are attentive enough, usually frazzled actually and totally on top of the shoe shopping, but I always like that in Shirley Hughes' books, Mum and Dad are seen relaxing with obligatory cups of tea. Further, when Dad takes Alfie to the park to try out his new rain-boots, Dad takes not only his book along with him but also his newspaper. Alfie is shown splashing happily in the puddles while Dad reads on the periphery, comfortably parked on a bench.
Things take a more sinister turn in "Disobedience" by A.A. Milne, a poem from his collection When We Were Very Young. Most of the fun of this one lies in the rhythm, and reading aloud:
James James
Morrison Morrison
Weatherby George Dupree
Took great
Care of his Mother,
Though he was only three.
James James Said to his Mother,
"Mother," he said, said he;
"You must never go down
to the end of the town,
if you don't go down with me.
Naturally, Mother disobeys and goes to the end of the town anyway, never to return. The poem is useful for the attention it pays to children's fears of separation from their parents, and also for its mysteries, its strangeness, the questions it leaves unanswered.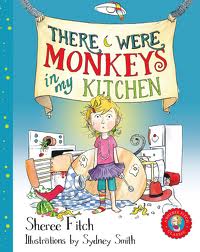 A exuberant, boisterous book, There Were Monkeys in My Kitchen is certainly one that leaves the reader asking, "Where are the parents?" Written by Canadian poet Sheree Fitch and recently re-issued with new illustrations by Sydney Smith, Monkeys is the story a small girl who is left defenceless as her house is overtaken by simian creatures. "I said, 'This place is CHAOS!' I said, 'BABOON catastrophe!' You folks have got to help! You've got to rescue me!" But nobody comes, even though she's called the police and RCMP. And by the time help arrives, it's already too late.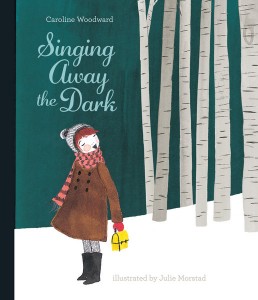 Absent parents are a trusting, benevolent force in Caroline Woodward and Julie Morstad's Singing Away the Dark, which was nominated for all the major Canadian children's book prizes in 2011. It's about a six-year-old girl in a rural community who must walk through the darkened woods on winter mornings to get to her school bus stop. In verse, Woodward describes how the girl summons all her courage by trudging forth and singing loud: "I see a line of big old trees, marching up the hill. 'I salute you, Silent Soldiers! Help me if you will.'" The verse is perfectly complemented by the detail of Morstad's delightful drawings.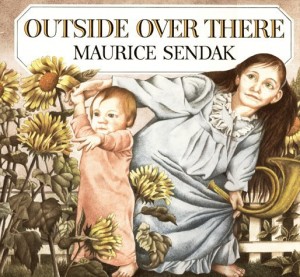 Similarly a story of bravey, Maurice Sendak's Outside Over There is a long way from the wild rumpus of Where the Wild Things Are. "When Papa was away at sea," it begins, "and Mama in the arbor, Ida played her wonder horn to rock the baby still—but never watched." Mama is clearly suffering from some kind of depression, and Ida has been left in charge of her baby sister, who is stolen away by goblins when Ida turns her back. It's a strange, disturbing tale, with simple prose given enormous depth by Sendak's remarkable illustrations, but small children have an appreciation for questions without answers and they might better understand this book than their parents do. Heroic Ida triumphs in the end, rescuing the baby and bringing her home.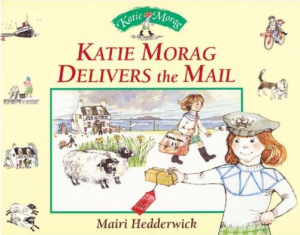 The tone is lighter in Mairi Hedderwick's Katie Morag Delivers the Mail. Katie Morag lives on a tiny island in the Scottish Hebrides, where her mother is the postmistress and her father manages the general store. One day when her parents are particularly busy, Katie Morag is put in charge of delivering the mail. Things go awry when she gets distracted from her task, and the situation is only put right again with the help of Katie Morag's wily granny. It's a story about the overwhelming nature of independence, but also the surprising and liberating fact of how much one can get away with in actuality.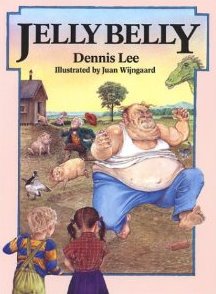 And finally, in Dennis Lee's Jelly Belly, a collection of poems well-populated with free-range kids and inattentive parents, the mother from "Mrs. Murphy and Mrs. Murphy's Kids" must be singled out. A modern-day version of the old woman in the shoe, Mrs. Murphy kept her kids in a can of peas but, "The kids got bigger/And the can filled up,/ So she moved them into/ A measuring cup." The kids move from one vessel into another as they grow, eventually ending up on a mountain top. "But the kids just grew/ And the mountain broke apart,/ And she said, "Darned kids/ They were pesky from the start!" She's eventually relieved of her duties when the kids grow up and have babies of their own. And we're told that Mrs. Murphy's kids kept all their kids in a can of peas, the whole unfortunate cycle beginning again.