October 25, 2012
My Grade 12 English Text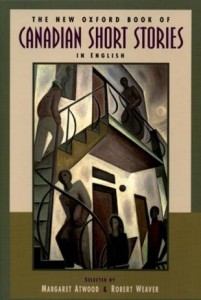 I've started reading Isabel Huggan's The Elizabeth Stories, because mention of it keeps turning up here and there, and because I keep spying it on terribly clever people's bookshelves. I got a used copy last weekend, and opened it for the first time this morning to start reading "Celia Behind Me": "There was a little girl with large smooth cheeks who lived up the street when I was in public school." And I realized that I'd read this story before, more than once. It was so strangely familiar, like something I'd known in a dream, but somebody else's dream. So distant because I'd read it a long time ago.
A little investigation revealed that I'd read the story in The New Oxford Book of Canadian Short Stories, edited by Margaret Atwood and Robert Weaver. I remembered the text, a row of spines lined up on the shelf in my grade 12 English classroom. I'd remembered "Celia Behind Me," and also a story called "White Shoulders" (I remember being perplexed by it) which I was surprised to find out was by Linda Svendsen. (Alice Munro's "The Red Dress" was not in the collection, but I remember reading that story too in the class.)
I was most surprised to discover that right there in my high school text were all these writers who I feel as though I've discovered in the last few years and who've become really important to me– Bronwen Wallace, Caroline Adderson, Cynthia Flood. And that Leon Rooke was there too, and John Metcalf, Clark Blaise, Diane Schoemperlen, Barbara Gowdy, Douglas Glover, Thomas King. I am pretty sure that we didn't read "We So Seldom Look on Love" in my grade 12 English class, but I am just as sure that if I encountered many of these stories again, they would seem as instantly familiar as "Celia Behind Me" did.
This re-encounter has given me a new appreciate for the hoopla surrounding the Salon de Refuses and the Penguin Book of Canadian Short Stories in 2008.  Well-curated anthologies are the optimum way for students to discover the short story, each one onto itself, one at a time. These seminal texts are also more important and influential than I'd before supposed, definitely sowing the seeds of love for short stories and for (Canadian) literature.
For me, it would take awhile for the love to bloom. I would not be exposed to contemporary writing this good again for years, and years, and I'd have to seek it out for myself. But maybe I hadn't been on my own entirely. It's been a meandering path from from there to here, but I am pretty sure that the me who picked up Isabel Huggan this morning (for fun) has The New Oxford Book of Canadian Short Stories to thank for a lot of the journey.