September 27, 2012
Our Western Whirlwind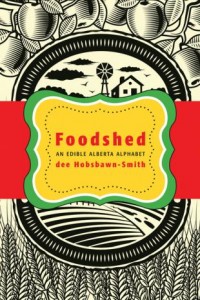 Whew, speaking of roadtrips. We had a wonderful, crazy, whirlwind trip to the mountains this week. We arrived in Calgary on Thursday and drove to Banff where we met up with my family and my sister's friends for a bbq at my sister's house. The next morning, we hung out in Banff and were delighted to discover a new independent bookstore in town, the lovely Mooseprint Books. (So wonderfully curated! They had Native Trees of Canada with their nature books, and Above All Things in with the mountain guides.)
It was especially exciting because I was able to see all kinds of West-centric books for the first time that we've been featuring on 49thShelf, including Foodshelf: An Edible Alberta Alphabet by dee Hobsbawn-Smith. I'll admit that Albertan food was not exactly a passion of mine, but: I have been mad about this book's cover design since the first time I saw it, and I LOVE alphabet books, which rarely cater to my reading level and so I had to own this. I was not sorry. It turns out that reading about Alberta's food culture is the most splendid way to learn about Alberta proper– its demographics, culture, topography, geography, climate, politics, and environment. It was an extraordinary education, and wholly engaging to read.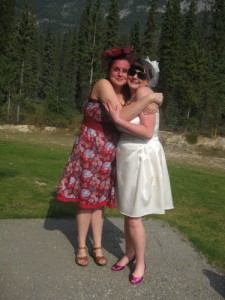 On Friday, we drove to Golden BC to have lunch and a browse at Bacchus Books. Harriet got Kitten's First Full Moon and Stuart (who's on a David Mitchell kick) got Number9Dream. We arrived at the wedding site on the banks of Kicking Horse River and got ready for two days of wedding fun. The wedding was complete with friendly, fun guests, and hosts who went to the ends of the earth to ensure that fun was had by all. It was. Such a stunning backdrop for the party too. Harriet was a dancing queen, and everybody was thrilled and honoured to be there.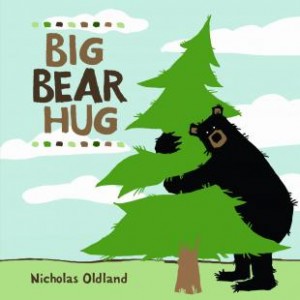 We spent most of Sunday in Banff, when we weren't on the road, riding a Gondola up to the mountain top and going to buy more books at Moose Print. (Harriet got Big Bear Hug as a Rocky Mountains souvenir). Dinner was had at our favourite Canmore joint, the wondrous Rocky Mountain Flatbread. And then on Monday morning we drove to Calgary. (It was also at this point that it occurred to us that we'd gone to too many places, and Harriet was confused about sleeping in a different bed every night.)
Oh, we learned that Calgarians are most hospitable. We were treated to lunch by Melanie and her family, and it was so nice to finally meet. Our children had a wonderful time playing together, and the pie was delicious. Afterwards, we drove out to stay with Melissa and her family, who had decided to put us up as house guests event though six people lived in their house already and Melissa hadn't seen me in 17 years. Harriet was enchanted by the big kids, and we were made to feel as though we were home. On Tuesday, we met up with my friend Sue who I hadn't seen in 7 years, and once again, Harriet had wonderful kids to play with. We visited a farm and braved a toddlerific restaurant meal, and then Harriet had a nap in their spare room.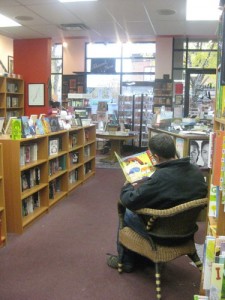 We decided it would be important to see some part of Calgary that wasn't a suburb, however splendid were its inhabitants, so we ventured downtownish in the evening. Naturally, our pilgrimage would be to Pages on Kensingston, which was as wonderful as I'd been hoping it would be. Stuart and Harriet settled in to read stories while I browsed. I picked up the new Nicola Barker novel, The Yips (so good!), The Book of Marvels as a gift for our hostess, and Harriet was quite insistent upon owning a copy of The Obstinate Pen (good choice!). Then we went to a toy store where Stuart caused trouble, and went walking along the Bow River and crossed a pedestrian bridge or two. The aspens were beautiful!
Flight home was uneventful, or if it wasn't, I didn't notice because I was too busy reading Nicola Barker. We arrived home last night and are so glad to be back, as glad as we are exhausted,  and the memories of the fun we had are as golden as the trees were.