September 19, 2012
Cadillac Couches by Sophie B. Watson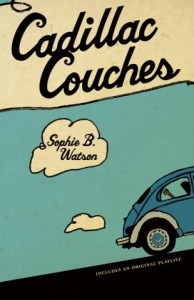 It's nice when you can tell a book by its cover, in particular when the cover looks like this one. Though I may have always been destined to love Cadillac Couches, the first novel by Sophie B. Watson. After all, it contains the following paragraph: "Eating popcorn and chocolate. Smoking smokes, drinking diet pop. Everything happened in the Cadillac. What larks! But like Bob Geldof asked in one of my favourite books–his autobiography Is that It?–was that it?" But that's not it, of course, even if it would be enough if it were because I did read Is that It? so many times in high school that its pages fell out and I cut out its pictures (Bob Geldof in overalls) and stuck them on them bedroom wall.
I really liked Cadillac Couches, a silly, sprawling road-trip novel with its very own soundtrack. The story begins at the Edmonton Folk Festival, where music fanatic Annie Jones ("But I didn't know an arpeggio from an armadillo–I was doomed to be forever a fan, not a player") decides that the cure for her heartbreak just might be a cross-country road-trip with her best friend Isobel to see Hawksley Workman performing a free show in Montreal. They stop off at the Winnipeg Folk Festival en-route, Annie discovers Ani DiFranco and is half-transformed, they have a breakdown in Wawa, max out their credit cards, and have to busk in order to earn enough money to keep the gas tank topped up. Annie is convinced if they can just make their way to Hawksley that he will fall in love her, and her half-transformation will be complete.
Of course, the road trip narrative one is a familiar one from other books and films, but it fast becomes clear that this one is a road less travelled. There is a bawdiness to Watson's writing– by page 69, Annie has already masturbated, and also peed in the tub (which her cheating boyfriend gets into as Annie gets out). The narrative itself is meandering, moving in and out of time, referring to other trips that Annie and Isobel have taken together. It's also scattered with song lyrics, and references to books and movies which Europhiles Annie and Isobel revere. It's a messy book about messy people, but though it's sometimes silly, it's not stupid, and there is substance underneath the whimsy.
Though sometimes it's too messy in places. Perhaps I'm harping on the Geldof thing, but if Is that It? were one of you're favourite books, you probably wouldn't have to say, "And I think I read Paula Yates was a girl just hanging around the music scene when she hooked up with Bob Geldof". You'd know it. And though Watson herself holds transatlantic status, her character doesn't, and so it was weird that so much of Annie's vernacular was made up of Britishisms. I wanted too more of a dynamic between Annie and Isobel (who was suffering a strange fake-bilingual affectation) who seemed strangers to one another, though Watson does do an effective job if showing how travel wears a friendship down.
The novel's roughness is part of its charm though, underlined by the line drawings throughout and the soundtrack included at the end. The whole package casts a spell. For those of us who came of age in the 1990s, Cadillac Couches is a bit like a scrapbook, the coolest bits of every diary you ever kept. Watson shuns convention with her book's conclusion too, its happily ever after coming courtesy of a refreshing dose of grrrl power.