September 3, 2012
Summerlong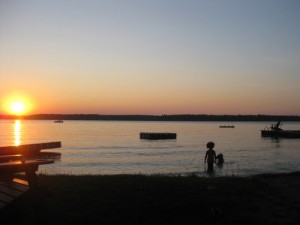 I've been trying to think of a way to write this post through a bookish prism, but we've had a busy long weekend and I'm so satisfyingly spent. So I'll give it to you straight instead: we've had the most delightful summer. A summer that began in May when the glorious weather arrived. We had an excellent week with our UK grandparents in town, which involved all kinds of local fun. Harriet turned 3 with the grandest dinosaur party in recent memory. Our new friend Lilia was born, and so we've had regular treks down to Queen & Gladstone all summer long to visit her. We've had weekend roadtrips in our Fiat 500, when the sun was always shining and the sky was so so blue. In June, we celebrated my birthday, 7 years of marriage, and Father's Day in one super-festive week. The best day out every to Toronto Island at the beginning of July, Harriet finally big enough that we can skip a nap or two and embrace a day in all its fullness. We spent a fantastic weekend in Peterborough, having much fun with more grandparents, enjoying in particular running through sprinklers and watching boats in the locks. Our cottage week away, so purely good, with so much reading, swimming, shoelessness, and being tuned out from the world. The next weekend, Stuart and I took off on a road trip of our own to watch our good friends get married and to delight in being a couple.
Oh, there have been the Kensington Market Saturday mornings, fun at Dufferin Grove Park, street festivals of all kinds, Trinity Bellwoods goodness, swimming at Christie Pits, wading pool hijinks, numerous Book City errands, brunches, lunches and dinners out, and deliciousness courtesy of the new barbeque we bought back in May. Little time between visits to Sweet Fantasies for ice cream. The joy of dinner on our beautiful porch. Pizza with tomatoes and basil from the garden, farmers market fare, fresh berries, strawberry picking with friends back in June, baking pie even though it's hot, never ever running out of freezies.
What a delightful summer it has been, cruising the city sans stroller, that little hand in mine, and no longer having to worry about such things as diapers, baby-food, and sleeplessness. No drama, angst or fretting, well, except for when Harriet was terrible, but we don't even worry about this so much. The weather has been glorious. It's true, a few days that were ridiculously hot, but more days that were absolutely perfect. I've never seen so much blue sky. I was only ever bored at a playground a handful of times. We have had the most splendid company.
Harriet starts playschool this week, which makes this the first real September we've experienced in years. It also marks a real shift, out of the house first thing in the morning, and time for me to work while the sun is up, which is tremendously exciting. And while I am of quite mixed emotions about Harriet starting school, I find myself less troubled by the end of summer than I normally am. I am not sure why, except that perhaps we've just spent it so well.
We went to the CNE yesterday, a new tradition we started last year. It was a fantastic day, though we were so tired by the end that we could barely walk home from the subway station. And I like our new tradition, an occasion that makes the end of the summer something to look forward to. Or perhaps I just like having something to look forward to. Perpetually. I would make a terrible Buddhist.
Because while I know that living in the moment is what we should all be aspiring to, sometimes I wonder what's so wrong with looking forward. Moments pass so quick, time doesn't stop, so why not just give in to that, and there is always something wonderful coming up next anyway. And I wonder if the real trick is just to keep something wonderful coming up next anyway. But then that's a trick that's probably easiest to pull off in the summer.