July 11, 2012
Valery the Great by Elaine McCluskey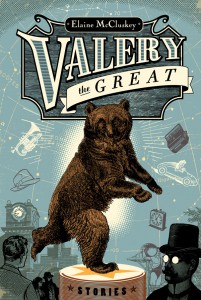 "He loved the feel of a paperback tucked in his back pocket like an overflowing wallet," is a line that turns up on the first page of Elaine McCluskey's Valery the Great, the first paragraph even, and it had me thinking (rightly) that here is a book I would love. McCluskey's stories are glimpses, conversations overheard, and collected they create a walking tour of small-town Maritime life. Her voice is scathing, very funny, her stories twisting at the end to leave me a bit stunned. And their stucture– you just hold on for dear life with no clue where the stories will take you, and sometimes you want to avert your eyes, but you can't help looking, looking so hard you hardly know what comes next.
Here is a book that left me wanting to reread Joan Didion, because of how McCluskey similarly lays the facts out, the details pointing the way and never meaning what you think they mean. There is a similar coldness too, a brutality, but it's easier to take, of course, because McCluskey is very funny at the same time, has a delicious feel for the absurd. I read Ramona Dearing's collection So Beautiful recently, and McCluskey's approach is similar. Both authors have a terrific ability to get into all manner of heads.
The book begins with Floyd Barkhouse, he of the back pocket paperback, media liaison for the Wahoo Volunteer Search and Rescue Team, who's been feeling a bit redundant in the empty weeks since anybody's needing searching or rescuing. The story, "The Favourite Nephew", captures the sinister edge to a not-so-simple picture of rural life. "Maurice" follows a dwarf boxing manager from childhood to old age, contains the line, "No wonder I punched so many guys in the mouth. Half the bastards probably deserved it." "Little Eric" is an unlikely love story, from the perspective of a loyal donut shop patron (and with an ending that made my heart soar).
And speaking of endings, oh, the title story, abouta  a figure skater from a New Brunswick city (a place with one legion hall and a curling club) who ends up travelling with the Russian Circus on Ice (with two bears), humour and heartbreak entwined, and you never do see the  GMC Suburban coming. And then the ending to "I Visited the Grand Canyon", about a woman who's cataloguing former boyfriends for a reason that will leave you in need of recovery. The ending of "Blossom" is the best punchline ever.
There's a lot of death and injury in these stories, even murder. But then McCluskey tap dances around the tragedy in a glorious spectacle, and the routine is beautiful. Her characters are downtrodden, dealing with their own problems by taking it out on others. Two characters are small-town newspaper reporters who seek distraction in mundanity from the problems of their own lives. Young people who use sport as a vehicle to get into the world, but then the vehicles run out of gas. There are clandestine affairs and intrigue, keen younger brothers and stupid sidekicks. Plus a story named after Maury Povich, a boy whose fate is to receive Tupac-related gifts every birthday, and references to Twitter and Facebook (and how death is handled in the latter) which makes these stories seem so right now.
I loved this book, a short story collections whose curation had as much thought put into it as the stories themselves, a fantastic package with a gorgeous design. In addition to considerable talent, there is furious energy at work here, McCluskey giving it her all, and as a result, reading was a pleasure.