July 4, 2012
The City's Sublime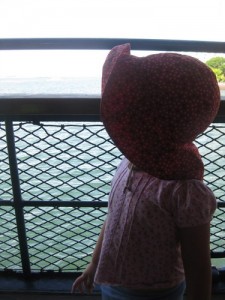 If ever there was a centre to my personal geography, I suspect that the Toronto Islands would be it. My grandparents used to take me there– I remember the day they bought me a $13 day-pass to the Centreville amusement park, and it felt like being handed a key to the world. I've rode that ferry with at least 3 different boyfriends, which is particularly significant when you note how few boyfriends I've ever had in total. The Islands were key to my development as a feminist, as a person— I remember the liberation of fleeing the city on my bicycle to read Mrs. Dalloway on a south-facing beach, and how no one in the whole world knew where I was. Later that same summer, I swam naked at Hanlan's Point and felt more powerful and fabulous than I had ever felt in my life.
I spent my 26th birthday on Ward's Island, with friends who braved a 90 minute-long wait at the ferry docks because I didn't have a phone so they couldn't call to cancel once they wait had got ridiculous. We had dinner at the Rectory Cafe on our 3rd anniversary, and it was really the most tremendous thing, to jump on a ferry boat after work, such an extraordinary way to spend a Wednesday. We've taken out of town guests there, had picnics with friends, partaken many times in Wards Island ice cream, played frisbee, rode our bikes, once lost a three-legged race at a company picnic (against children), and shivered and swam in the lake.
We've gone every year at least once since Harriet was born, though our visit last weekend was the first one in which she was old enough to appreciate island goodness. We all love the ferry boats, which we know best from Allan Moak's Big City ABC (I being for Island Ferry, of course). We spent our morning at Centreville, whose day-pass hasn't been $13 for many years, but is still great value and we had a wonderful time riding the carousel, log flume, tea-cups, train, swan-boats and antique cars. Harriet couldn't quite fathom that she'd entered a world in which she was permitted to drive.
After, we had our picnic on the banks of the lagoon, bread and cheese and fresh strawberries, then took a trek over to the Franklin Children's Garden where Harriet had a fabulous time spotting the characters she knows from the Franklin books, watering the plants in the garden plots, and tracing her way along the snail trail. Then it was time for splash-padding and sand-digging, and re-applying our sunscreen. As the day got long, we took a long walk along the boardwalk to the Rectory Cafe for dinner. And when we were finished, we approached the Ward's Island docks just as the boat was arriving which we boarded so it could take us home, exhausted but revelling in the goodness of a perfect day.
"Neither entirely land or water, but containing elements of both, the Toronto Islands are a fitting site for memorial rituals because their fluctuating sands reflect the fleeting passage of life, buffeted by storms of fortune and bracketed by the permeable border between here and the hereafter… Without mountains to serve as an urban muse, the islands have become the city's sublime. Visiting the islands, valuing them, Torontonians experience something truly akin to transcendence." –Amy Lavender Harris, Imagining Toronto