June 11, 2012
The best literature this country has ever produced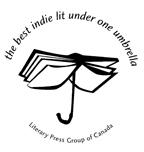 From my letter to my Member of Parliament and Minister James Moore regarding the federal government's cessation of funding to the Literary Press Group of Canada:
"Canadian presses are right now publishing some of the best literature this country has ever produced. If you aren't already familiar with titles such as Darcie Hossack's Mennonites Don't Dance (Thistledown Press, also nominated for Commonwealth Writers Prize), Billeh Nickerson's Impact: The Titanic Poems (Arsenal Pulp Press), Madeleine Sonik's Afflictions and Departures (Anvil Press, also nominated for Charles Taylor Prize), Daniel Griffin's Stopping for Strangers (Vehicule Press, shortlisted for Frank O'Connor and Danuta Gleed awards), Mad Hope by Heather Birrell (Coach House Press), Mnemonic: A Book of Trees by Theresa Kishkan (Goose Lane Editions), The Sentimentalists by Johanna Skibsrud (Gaspereau Press, winner of the 2011 Scotiabank Giller Prize), I'm a Registered Nurse… by Anne Perdue (Insomniac Press), and Monoceros by Suzette Mayr (Coach House Press, nominated for 2011 Scotiabank Giller Prize), which are only some of the best books I've read lately, then I suggest you seek them out. And then you will understand my concern about the LPG funding cut, and about how much we all stand to lose as a result."
The matter is urgent. If you support Canadian readers, Canadian books, and Canadian writers, please write your MP and tell her/him so.