June 11, 2012
Magnified World by Grace O'Connell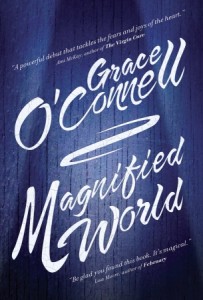 "And as navigate the city at the centre of the map, we realize that we, too, are part of the story, crafting new narratives of Toronto even as the city swirls and eddies around us like a buried river brought back to life." –Amy Lavender Harris, Imagining Toronto
Recent Toronto books, including Sean Dixon's The Many Revenges of Kip Flynn, Alissa York's Fauna, Claudia Dey's Stunt and Maggie Helwig's Girls Fall Down are remarkable for not just their Toronto settings, but for how their authors engage with the city as myth-makers,  building on old myths (and yes, ravines are useful for this) and also for creating new ones. For imagining a Toronto beyond Toronto, an other city that looks like ours but shimmers in a different way, in a way that makes us look at the city twice.
Toronto is engaged with in just this way in Magnified World, the first novel by Grace O'Connell who is Random House Canada's 2012 New Face of Fiction. It is a story told by Maggie Pierce who enters page one wearing unfamiliar shoes and stumbling home without a clue as to where she's spent the night. Her home is an apartment above Pierce Gifts & Oddities, her mother's shop on Queen Street West (with tin ceilings!) across from Trinity Bellwoods Park in the late 1990s, a period in which the neighbourhood was on the cusp of significant change. Maggie's most significant change, however, has been her mother's death just weeks before by drowning in the Don River, her pockets full of zircon stones from the shop.
"For the first few weeks, I forgot sometimes that she was dead; not completely, of course, but in little, individual moments, when I would see the yellow zucchini she liked in a store,or smell the rooibus tea she drank. If they were still selling these things, if they existed, then she must be alive, to eat, to drink."
We begin to see that Maggie was at a remove from the world even before her mother's death, having spent most of her time working in the shop and caring for mother through her mental health troubles. Her parents' marital problems have alienated her professor father from the household in all but body, and Maggie's only other connections are her best friend Wendy and boyfriend Andrew, both of whom are making their own ways and growing away from her. And so when she starts suffering from blackouts and delusions, it's almost part of a pattern, Maggie moving farther and father away from the world. She doesn't react in the way we think she might, but it's a testament to how alone she is, how grief-stricken she is by the loss of her mother. She seeks help from a psychiatrist at the nearby CAMH hospital, but then is taken in by his enigmatic colleague who promises answers and seems to have ulterior motives. All the while, she's being visited by a familiar stranger named Gil who calls her "darling", wants to write the story of her life, and may or may not actually exist.
The novel lags in its second third as Maggie's blackouts and visions begin to seem a convenient way for the novel to evade any real explanation of what's going on. The farther she gets from reality, the more implausible becomes the behaviour of the people around her, which sort of makes sense, but not entirely, and doesn't make for spectacular reading either. But then the novel picks up speed again in its final third as Toronto becomes a character, a body: "Below was the Don, flowing like a great vein. If the city were a body, this was where you would draw blood." The city is most alive in a wonderful scene in which Maggie walks the streets of a downtown which is about to experience its own blackout: "The streetcar went by and then another, and another, like synapses, like the city thinking of itself."
Sometimes the language got away from itself. I struggled with awkward similes like, "I let myself spread out, mentally checking the city like  a tongue running over the empty socket of a tooth," but these instances were conspicuous in their rarity, against the general strength of O'Connell's prose. And my reservations about aspects of the story were gone by the novel's end, as I realized how much Magnified World was a novel about the city, about being alone in the midst of millions of people, but the hope implicit in that it's not really being alone after all.