June 7, 2012
Never Mind the Patriarchy Part 2: Myrl Coulter and Helen Potrebenko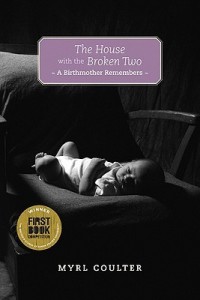 Last week, I read Myrl Coulter's The House With the Broken Two: A Birthmother Remembers, a memoir of Coulter's experiences growing up in Winnipeg and being forced to give up her son for adoption in 1968 when she finds herself pregnant. Like Madeline Sonik's Afflictions and Departures, which I enjoyed so much, Coulter shows "what happens when individual lives collide with their particular historical moments." Unmarried and a teenager, Coulter was sent away from her family and community to live at one of those ubiquitous maternity homes while she waited to have her baby. As an unwed mother, she was treated by disdain at the hospital where her son was born, and expected to move on with her life after the fact as if the story had never happened.
Unsurprisingly, this moving on proves difficult, and the memoir goes on to show how Coulter carried her experience inside her for so many years in silence. Looking back, she questions how her parents could have let it happen, could have sent her away, could have let her give away her son. Eventually, years and lifetimes later, she and her son are reunited, and she's forthright about the complicated nature of their relationship, and also about her anger at Canada's closed adoption system that manipulated and wronged so many young woman just like her.
She writes, "…the feminist version of me… was born on a dark night in 1968 when I gave birth to my first child alone in a big crowded hospital. I knew at last that my feminism stems from the invisibility society demanded for unwed mothers back then; I knew that my sense of agency was born in a social order that dictated no one should stop to offer comfort to a frightened eighteen-year-old girl in labour simply because she wasn't married… I knew.. that being a feminist and being a mother are inevitably connected, like fetus and placenta." With excellent writing and perfect detail, Coulter paints a rather stark picture of life "back then", though all of us who have ever been pregnant by mistake are well-aware that the experience carries a devastating stigma to this day.
There was no reason why I picked up Helen Potrebenko's TAXI! to read next, except that both books had come in at the library at the very same time. But, as in my first Never Mind the Patriarchy experience in March, random books brought forth remarkable connections. Once again, I was reading a book that Anakana Schofield had recommended, this time TAXI!, which Schofield calls her "favourite Vancouver novel" (and you can believe it). It's the story of Shannon, a female taxi driver in Vancouver during 1971 and 1972. The episodic novel follows Shannon as she philosophizes and longs for revolution, driving the streets of Vancouver with various down-and-outs and scumbags throwing up in her backseat.
Says Shannon, "There are so so few choices for women. They've got you in a cage. If you're bad they tighten the bars around you so you've got no space at all. They they give you back the original cage and call that freedom."
It's a funny book, but timeless in a way that is tragic. Protesters erect tent cities in local parks, unions are striking, there is social unrest, not enough jobs for young people, and there's a war going on. "The first time Shannon drove cab drunk out of her mind was the Christmas after the War Measures Act." TAXI! could have been written yesterday, which is a mark for Helen Potrebenko, but bad luck for the rest of us. Shannon herself would probably not be so surprised, having never suffered any illusions about progress.