February 29, 2012
Bookends: Joan Didion's Blue Nights and "On Keeping a Notebook"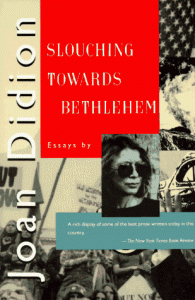 As I read Joan Didion's 1966 "On Keeping a Notebook" today, it occurred to me that this essay is the piece that is the bookend to her new book Blue Nights, and not The Year of Magical Thinking as so many critics have suggested. (I also don't understand why no one talks about Where I Was From. I think it's my favourite book of all of hers.)
But first, Blue Nights is not a book about Didion's daughter Quintana Roo. So many readers have got that wrong too. As Didion writes in "On Keeping a Notebook", "however dutifully we record what we see around us, the common denominator of what we see is always, transparently, shamelessly, the implacable 'I'." Like everything Didion has ever written, Blue Nights is profoundly about herself. She's not even opaque about it, but some readers are still so unable to get around the fact of a woman writing honestly about motherhood than they've been hypnotized into thinking motherhood is all that Blue Nights is about.
But yes, to read "On Keeping a Notebook" after Blue Nights is to invest the essay with a whole new level of meaning. "Although I have felt compelled to write things down since I was five years old, I doubt that my daughter ever will, for she is a singular blessed and accepting child, delighted with life exactly as life presents itself to her, unafraid to go to sleep and unafraid to wake up." And then later, "…I have always had trouble distinguishing between what happened and what might have happened, but I remain unconvinced that the distinction, for my purposes, matters." In Blue Nights, Didion writes, "How could I have missed what was so clearly there to be seen?"
And then further on the essay when she addresses her notes, her compulsion to maintain these notebooks in order to keep in touch with the people she used to be, "paid passage back to the world out there". She was 32 when she wrote this essay, which is the age I am now, and it's an age at which you feel there are whole lifetimes behind you, and it's so fascinating to consider these. 32 is an age where your preceding decade has changed life beyond all recognition, and you've finally sensed an order to it all. How, as the older woman in Didion's essay tells her, "Someday it all comes." And none of it has started to leave you yet; the future is all promise, and it's here.
Blue Nights is a 77 year old Didion looking back at her 32 year old self who'd supposed herself older than she'd ever be again. In Blue Nights, she notes the boxes and drawers in her apartment stuffed with history, the notebooks, the stuff she's been acquiring through her years, all items she'd once blithely advertised as "paid passage back to the world out there."
She writes, "In fact I no longer value this kind of memento./ I no longer want reminders of what was, what got broken, what got lost, what got wasted./ There was a period… when I thought I did./ A period during which I believed that I could keep people fully present, keep things with me, by preserving their mementos, their "things", their totems."
She writes, "In theory these mementos serve to bring back the moment./ In fact they serve only to make clear how inadequately I appreciated the moment when it was here."
"It all comes back," Didion writes in 1966, unaware of the shallowness of what she'd lost so far, convinced by the rhythm of her words. And Blue Nights is her realization more than 40 years later: there comes a day when it doesn't anymore.