February 16, 2012
Leaving Berlin by Britt Holmstrom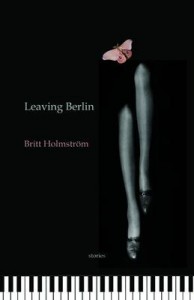 Leaving Berlin by Britt Holmstrom opens with an epigraph from Carol Shields' The Stone Diaries: "It is inevitable that each of us will be misunderstood; this it seems, is part of twentieth-century wisdom." Which sets up two expectations that Holmstrom takes care to meet, the first that these are stories about (dis)connections between people, and also that we're entering a Shieldsian universe.
And indeed, Holmstrom writes with a similar approach to the short story to Shields'. Her narrators are omniscient, she's an orchestrator, she doesn't go in for plot and explosions, and her stories aren't linear at all. Instead they're structured like nesting boxes, each story holding other stories inside to be unpacked, and inside those are stories more. So that an single story here can consist of two women sorting their laundry who've never had an intimate conversation, or strangers sitting in a train station waiting room, or two women sitting beneath the Eiffel Tower who don't say a word to one another, and yet feelings, misapprehensions, misunderstandings, and prejudices cause  characters to delve deep into their own histories, and whole stories are spun (and stories upon stories). Much like, just say, a story can be written about the absurd sight of an older woman in short-shorts unabashedly mowing her lawn.
These stories are connected by their characters, who are usually unassuming women whose simple theories of the universe are being tested; by their geographies, which are usually small Canadian cities, or European cities as envisioned by the inhabitants of small Canadian cities; by the references to art, artists, music and musicians which recur throughout; and by the marriages, which are usually passionless and horrible. And the connections between women, positive or otherwise. And I absolutely knew I loved this book with "The Company She Kept", about a group of office mates who become obsessed with a colleague who spins preposterous stories about her exotic life which can never be quite proven false, though the women all know she's lying, of course. But why does she go to so much trouble to do so? Why would you borrow a punch bowl if you were never going to use it? And as these questions are endlessly fascinating, these women's fascination takes them beyond limits of their comfort, changing the course of their lives in the process.
"Under the Eiffel Tower" is an exercise on the distance between the way we see ourselves and how others see us, about Carol, a woman whose fear of heights kicks in at the last minute and she's left to sit and wait as her husband and their party ride to the top of the Eiffel Tower. On a nearby bench is a woman who is probably a Gypsy, though that idea makes Carol uncomfortable. Is it racist to suppose someone is a Gypsy? And thoughts of this woman take her back to a story her mother told from her own childhood in Denmark about playing with Gypsy children, which leads Carol to a story from her own life about a brief (and uncharacteristic) love affair years ago with a fellow traveler who gave her a St. Christopher medal she wears around her neck (though the story of why he gave it to her is not so straightforward). And it's the medal now that a small boy has his eye on, a Gypsy boy who's already had the never to ask her for her change, a boy who Carol assumes must belong to the woman on the bench beside hers. Though is that a racist thought too? And as Carol gets up and finally walks away, it is revealed that Carol's judgments of the woman and boy have been right and wrong in the most shocking ways.
I also loved "The Rebel Doll", about a Canadian woman who goes to visit her sister in the northwest of England, and forges a connection with a young girl in the train station waiting room. When the woman's sister makes a casual statement about the woman's mothering of her own children, however, the nature of the woman's connection to the young girl is illuminated in ways that surprise us as much as it does the woman.
I loved the characters who were summed with lines like "…an alcoholic misfit who at the age twenty-eight had drowned his litter of ambitions to avoid the tiresome responsibility of having to look after them." Holmstrom pulls no punches, takes no prisoners, which at best gives her prose a most delicious biting effect, but at worst renders some characters and plots as one dimensional. I really enjoyed "The Sky Above Her Head" about a woman who's trapped in the ties of her family and takes the sweetest revenge at a prairie gas station (to a Mungo Jerry soundtrack, no less), but I wondered if anyone could be so unrelentingly unsympathetic as that sister was? The effect is decidedly amusing, and I certainly smiled, but such touches lacked the depth of others.
Leaving Berlin is a bit different from most Canadian short story collections I've read lately (and I've read plenty) in two significant ways that have to do with its author's biography. First, that Holmstrom was born in Sweden, and her collection reflects such an international awareness of the local, and also what it means to be foreign, even though the foreigners here are usually Canadians abroad. And second, that this isn't her first book– Leaving Berlin is her fourth book since 1998, and the book lists Holmstrom herself as having been born in 1946. And you sense that with this book, that here is a writer with experience in both writing and life, and who is not striving in the same way as a young writer still learning and yearning to prove herself might be. Which is to say that there is sureness here in Holmstrom's voice, a real maturity, and what a pleasure it really is to encounter a writer in her prime.