January 18, 2012
Winter: Five Windows on the Season by Adam Gopnik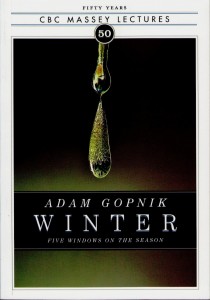 Winter has always been difficult. When I was 20 years old, and prone to fits of angst and melodrama, my roommate and I copied out an epigraph from Margaret Atwood's Survival (we were English majors, in addition to being melodramatic) and mounted the paper on our wall: "To find words for what we suffer,/ To enjoy what we must suffer–/ Not to be dumb beasts…/ We shall survive/And we shall walk/ Somehow into summer…" (DG Jones, "Beating the Bushes: Christmas 1963").
Last winter, I went about survival all wrong. As the winter solstice arrived in December, I kept telling myself that the darkness only meant that spring had never been so close. This thought was consoling, but it utterly ruined things once June came around, and I couldn't shake my head of the fact it only meant now that winter had never been so close.
So I decided to do better this year, and Adam Gopnik's Winter: Five Windows on the Season was part of that. My plan was so strategic that when the book came out in October, I couldn't actually read it because it wasn't winter yet. In fact, it wasn't really winter until last Friday when the snow fell, and so that was the day I finally started reading. Winter is this year's Massey Lectures in book form, written and delivered by Gopnik, of the revered New Yorker columns and wonderful books (I loved Through the Children's Gate). Gopnik, who gets to start sentences with, "My brother-in-law, the Arctic explorer…", which underlines something I've long suspected: that it's people with the best stories who get to be the best story-tellers.
The book is divided into five essays, but structurally, these essays are curious. They're not built from the bottom-up as much as vertically, as a flow, words and ideas flying by in a whirl of pages. They're more consecutive impressions than a cumulation of ideas, which makes sense for lectures, and I also don't mean to imply a lack of depth. Sure, breadth is what's on display here, but there is an underlying structure, but it's easy to get distracted from it by the essays' sheer volume of stuff.
You'll know that I was absorbed in Winter because the whole time I was reading it, I started all my sentences with, "Hey, did you know…?" That there was a mini-Ice Age between 1500 and 1850, for instance, which accounts for all that skating on the Thames. I learned about this in the book's first section, "Romantic Winter", in which Gopnik asserts that the Romantics constructed winter as a season to be considered rather than simply borne, and developed notions of winter as both beautiful and sublime. And this is what I love about Gopnik's writing, and this book. Nothing is ever simplified. Gopnik never misses a chance to classify one thing as two things, and usually those two things are directly opposed. But so it goes. "Doubleness clarifies the world," said Carol Shields, and Gopnik is smart enough to know this.
In "Romantic Winter", Gopnik references poetry and artwork (whose images are featured), ideas of winter and nationalism, the advent of central heating, icebergs vs. snowflakes. Section two is "Radical Winter", considering winter as something to be sought rather than survived. He begins with Mary Shelley's Frankenstein, which is situated at the North Pole (and yes, I'd forgotten this too), and describes the race for the Pole from both ends (and describes what the Poles where imagined to be before we knew they were cold. Seriously. This stuff is wonderful). "Recuperative Winter" is a celebration of the secularization and commercialization of Christmas, and he writes about holidays in general, how Christmas is extraordinary for its doubleness as a festival of renewal and reversal at once.
In "Recreational Winter", he's basically talking about hockey and hockey as born out of Montreal in the late 1800s (and it's the offspring of rugby and lacrosse, not anything so civilized as soccer or field hockey). And did you know that team sport was not even really a thing until the industrial revolution (and the weekend, and the big company to sponsor and pay for the sweaters). And finally, "Remembering Winter", picking up the strands of loss and nostalgia that have been winding their way through the entire book. Gopnik celebrates Montreal's underground city that allows winter to be skirted (and did you know that Dallas's underground city had same designer? And was a failure because Dallas doesn't need to escape from itself, and also because there was no subway integrated. Dallas is a car town), but also laments how far we are removed from winter now. This loss underlined by how important winter has been to building great cities. He presents winter as "a labile environment where the imagination can not only project but can construct anew from something given." Why we take our children outside to build snowmen, angels. Global warming with spiritual consequences beyond the cannibalistic polar bears.
Gopnik comes clean at the end of the book: "I realize that these chapters, in the guise of cultural observations and a kind of amateur's cultural anthropology, are really a composite list of things that I like and things I don't… I love Christmas carols, A Christmas Carol, Dickens and Trollope, free-skating and fast-passing Russian and Quebec hockey, and courage of the kind that drove people toward the poles, which I wish I had more of."
But the thing is that I don't even like hockey or sports at all, and Gopnik's hockey chapter had me mesmerized. I am a Canadian who doesn't know how to skate, but this book made me want to sign up for lessons. The book has had the effect I'd intended, providing my survival with a rich and vivid context, to have me stop a bit and be here now, to throw on another sweater and gaze out the window some more, and maybe even go outside.