November 14, 2011
This is where we used to live.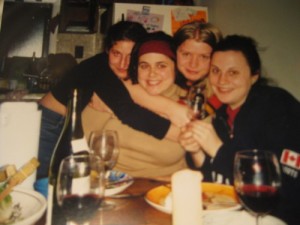 2001/2002 was my final year at university, the year I had a back page column in the school newspaper and therefore had a platform from which to address the question of what it meant to live on a "grimy, yet potentially hip strip of Dundas St. West", as my block had been described by the Toronto Star in a restaurant review of Musa. To live on such a strip meant kisses in doorways, I wrote, because no boy would ever let you walk home alone, it meant watching from your bedroom window as a dog devoured a skunk, and having to call the police when people started smashing car windows with implements from the community garden. I can't remember what else I wrote in that piece, and Musa burned down two summers ago, but neither point means that year is lost. I have never gotten over it.
Everything felt monumental that year, not because of anything specific, although it was our final year of school, and 9/11 occurred days into it, serving to make us think a lot about things we'd always before taken for granted. "That was a year," wrote my friend Kate in a recent email, "we all made enormous leaps into adulthood even if many days it felt like we were just playing." And of course, everybody has had those years, monumental if only for how they delivered us to here. A threshold to something finally real, but we were aware of it happening all the time, and so amazed to watch the world opening up before our eyes.
And so it felt entirely appropriate when I discovered last week that they'd turned our entire apartment into an art exhibition. (It all feels a bit Tracey Emin.) "They" being the people at Made Toronto, which now lives downstairs from where we used to live, though that storefront was a Chinese herb shop when it was ours. (It was a different time. We'd never heard of hipsters, and Musa was the only place to get brunch for blocks and blocks. David Miller wasn't even the mayor then, and Spacing Magazine had yet to be invented.) The exhibition took place last year, designer furniture and housewares on display in a "typical Toronto apartment," which is funny because there was nothing typical about it– for about nine months that I know of, that apartment was the centre of the universe. It's also funny because it's the ugliest apartment I have ever, ever seen. Aesthetically speaking (although "aesthetic" was not, in fact, a word I was aware of when I lived there), that apartment's sole redeeming feature was the patio where I used to go to pretend to smoke cigarettes, and watch the city skyline.
Part of the reason I love my husband is because I brought him home for a visit from England in 2003 when the apartment was still inhabited by friends of mine. And they had a party to welcome me back, and so for two days, he got to know almost exactly what I was talking about when I talked about that place, about that time. I love that he was there, that brief intersection between my new life and my old one. I love that my roommates are still such dear friends, no matter that we live so far apart now. And I love that the hideous pink linoleum floors are just the same, and that we've come so far, they're considered art now.