October 26, 2011
On re-watching Reality Bites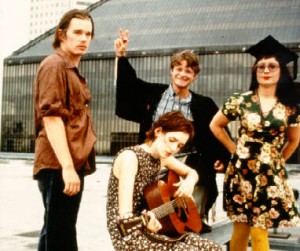 I was a deeply impressionable 14 years old when I first saw Reality Bites, and it came to define "cool" for the remainder of my teenage years and beyond: smoking, vintage dresses, '70s nostalgia, passionate friendship, complicated relationships, the attractiveness of moody boys, and an obsession with self-obsession ("I'm making a documentary about my friends"). It taught us all to define irony so we wouldn't be caught on the spot, it was David Spade at his finest ("Have a 'tude weiner dude, all right."), and it made angst so attractive, so important, essential. It made me pretend to like "My Sharona" ("Turn it up. You won't be sorry"), had Crowded House on the soundtrack, sold torturous angst straight-up with U2's "All I Want is You", and it brought "Stay, I Missed You" into the world, which was the song that was playing when I was asked to dance by the coolest boy at summer camp (and, sadly, this was to be the peak of my romantic life for years and years and years).
Because I couldn't find Reality Bites at my local video store and the Toronto Public Library had not seen fit to update its VHS copy, it seemed like all my wishful thinking had conjured the Tenth Anniversary DVD I bought a few weeks ago at a yard sale for a dollar. I sat down to watch it last Friday night with an aim to craft a blog post about literary references in the film. Except that there weren't any. Nobody reads in Reality Bites, not even Lelaina Pierce, college valedictorian, or Troy Dyer/Ethan Hawke, the greasy-haired philosophy drop-out. Who says things like, "I might do mean things, and I might hurt you. and I might run away without your permission… and you might hate me forever. And I know that that scares the shit out of you because I'm the only real thing that you have." And what scares the shit out me is that fifteen years ago, I would have considered these lines incredibly romantic.
It's true, all the movies I spent my teens and twenties thinking were romantic actually turned out to be fucked up stories about people who were emotionally crippled or mentally ill. Perhaps both forces were at work in Reality Bites (and really, we all know how things turned out for Winona). Reality Bites, the land where nobody reads, but people quote 1970s sitcom trivia at parties and Melrose Place is a cultural reference point. "Melrose Place is a really good show," said Winona, and I'm not sure that I really agree, but I do think that Reality Bites is a really good movie. Still.
It's an old, old story, contrary to what the newspapers would have you believe. It's hard be out just of school, to be transitioning to adulthood, to be unemployed or underemployed, to not know where you want to go, and to have your actual options be even more limiting. To have goals but no idea how to make them realities. It's hard to have ideals in the real world, to make things that matter, to settle down without settling, to decide who to fall in love, and when not to dress like a doily. It's terrible to spend four years working towards adulthood, and then emerge into the world to find it utterly unwelcoming. To think that you're not going to be able to have the kind of life your parents did, even if you're not sure you want that life in the first place. To not get what you've been raised to think was your entitlement. To step out into the air and discover that you can't fly.
We all know that each generation imagines that it discovered sex, but it's true also that each imagines that disillusionment is something new. Reality Bites says otherwise: being 23 has always, always been terrible, but thankfully being 23 manages to not be the end of the world. It's only the very beginning, and you learn.