September 15, 2011
The Antagonist by Lynn Coady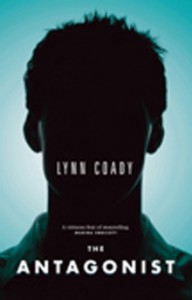 The jocks in my classes at university were always kind of fascinating. Mostly because one didn't encounter them very often– I went to Uof T whose sports programs were notoriously poor-perfoming. But also because their academic skills always came as a kind of surprise, and because some of them were so big that they couldn't fit into those chairs that had the desks attached, and had to sort of get wedged in, and I remember how completely uncomfortable these guys looked, how they rendered the world lilliputian, but somehow they were the freaks.
The jock, Rank, was only one of the many characters in Lynn Coady's The Antagonist who I recognized so completely, who made me think, "I know these people." Like Rank, I was also "born in a small town", and so I recognized his father also, a guy called Gord who starts every sentence with, "That little fucker…" And the deadbeat, and his fat friend, and then the middle class versions of these guys who Rank encounters when he gets out of that small town and goes to university (and tries and fails to wedge himself into one of those impossible desks).
Or maybe what I mean is that Coady's book had me realizing that I didn't know any of these people at all, actually, and that my recognition of these type had no real connection with these characters' inner workings, the circumstances of their lives. Coady has taken all kinds of familiar tropes here– foundling child grows up to be Paul Bunyan, to have the strength of Superman, local boy does bad and local boy does good, and local boy does everything he can to escape being created by a father who didn't create him after all, or at least not biologically-speaking, and by the time Coady is through, these tropes are as unrecognizable as the types are, and here we've got a startlingly original novel with incredible depth and devourability.
Not that this is a novel without precedent. Coady's last novel, 2006's Mean Boy was a hilarious satire of university creative writing programs, and it had many of the same metafictional elements as The Antagonist (which is, in its own way, also a campus send-up). It even had an antecedent to protagonist/antagonist Rank, a big strapping drunk guy who's prone to homicidal rages.
Rank is the whole story here, however, it's his fingers at the keyboard tapping out a message to ghost from deep in his past. Or perhaps the ghost is himself, his younger self, who he's just encountered in fictional form in a novel written by a former friend. A big strapping drunk guy who's prone to homicidal rages, and Rank has recognized himself in his old friend's story. Coady's novel is Rank's response to this recognition, a letter to the author to set the record straight.
Coady handles the structure (an email) so elegantly, with flourish ("Consider this the first chapter"), but eventually the structure fades away for the reader and the story runs the show. Rank (whose name is actually Gordon Rankin, Jr. He notes the moment of his uncomfortable awakening that he's spent most of his life instructing people to call him "Stinky") goes back to his childhood and adolescence to get to the root of his true story, the awkwardness of being a fifteen year old boy in a giant man's body, and the expectations this body has foisted upon him. Which are mainly his father's, that he'll take care of any punks hanging around their family business, and with his outsized strength, this gets him into serious trouble.
Stories of a subsequent court case are woven around a later plot-line involving Rank and his friends at university (which he attends after achieving an unlikely hockey scholarship), and the inevitability of Rank once again conforming to type. The plot gestures toward this second story culminating in another act of violence, and there is also mystery surrounding what exactly happened to Rank's mom, both of which make for compelling reading, even more-so because of the immediacy of Rank's own voice, and the urgency of his message as he types the story home. He's incredibly likable, but he's terrifying, and there are these moments at which he undermines himself, and others where the story does it for him. He's also a narcissist who can't bear to look in the mirror, so convincingly embodying all of these contradictions, and the result is one of the most fascinating fictional creations I've encountered in a very long time.
And what's even more fascinating, of course, is that he's his own creation here, competing with someone else's version of him, which opens up all kinds of questions about story and character, and the execution of both in real life. Embodying even more contradictions: Rank writes, "Even now, speaking to me from twenty years ago, you had me pegged./ Which makes no sense when I think about your book. How could it you could have me so nailed down and still get everything wrong?"
Lynn Coady has arrived with this amazing novel which combines its depth with broad appeal, and her trademark humour is also on display to balance out the story's heaviness. She also manages to finally bring together the various plotlines in such a satisfying way, though this didn't mean, of course, that I was any less devastated to have to stop reading because the story was over. (I was. I was. This is a novel that casts a spell.)