August 31, 2011
Natural Order by Brian Francis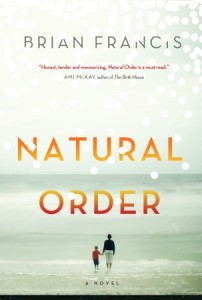 Whereas Brian Francis' novel Fruit (which should have won and nearly did win Canada Reads 2009) was a hilarious little story with an undercurrent of sadness, his second book Natural Order is a sad huge story with an undercurrent of hilarity. Fruit ended with Peter Paddington on the cusp of his teenage years, his dawning awareness of his homosexuality, of a darkness on the horizon. The darkness was so subtle you might have missed it in this deceivingly light novel, and it is this darkness that Francis tackles in this latest book.
The book begins with a death notice from 1984, John Sparks dead of a sudden illness at the age of 31. He is survived by his parents, aunts and uncles, and cousins. And then in the first chapter, we meet his mother Joyce years later, living out the final years of her life in an old age home. Her husband has died, she had no other family, and hers is a lonely life that has caused her to grow a brittle shell. Her one diversion is visits from a volunteer called Timothy, a young man who is gay, and though she at first resists his attempts at connection, she warms to him because he reminds her of her son.
Times run together for the elderly, blurred borders between yesterday and today, and so accordingly, Joyce's narrative reaches out in a variety of directions. In her youth, she'd developed a crush on a flamboyant co-worker who later commits suicide; we meet Joyce as a young mother delighting in her son; years later, she is dealing with the distance of a son whose true life she refuses to acknowledge (which makes his death, from AIDS, all the more painful. Not that she learns from this– she tells everyone he's died of cancer). A major componant of the plot involves Joyce as a widow, still living in her home but becoming aware that her days there are numbered, and a discovery she makes that forces her to acknowledge her shortcomings as a mother and a wife.
The delights of this novel are many– Francis writes with a steady hand, creating believable characters who talk and act like people do. I particularly loved Joyce's friends and neighbours– her single friend Fern in the red sequinned shirt, and her neighbour Mr. Sparrow who calls her to warm her about a strange man prowling around her house, who he's since invited in for a coffee. Also, jokes about United Church Women who can whip up "a salmon loaf standing on [their] head[s] in thirty seconds". Though my favourite joke is when Joyce goes over to visit a friend whose father had years before fallen off the roof during a lightning storm: "Stay off the roof," my father said.
At times, Joyce seems too aware of her role in the story ("But the only way I could control things was if John went to the college here and stayed at home"), but for the most part, Francis has done a stunning job of getting into this character's mind and creating sympathy for her. He shows Joyce's overbearing nature as the result of a mother's efforts to protect a boy who always had a hard time fitting in and faced persecution at school, and her refusal to acknowledge just how exactly he was different as a product of her time and culture.
I'm not crazy about the cover of this book– the whole point of Joyce is her unworldliness, and that she spent her whole life quite sure that the world in her backyard was the world as it was, and what I mean is that she never took her son to the seaside. But her stubbornness in clinging to her own view in the world is what makes her such a compelling narrator. At the end of a life of deception, she becomes quite adept at unflinching truths. She is wry, funny, and far more observant of others' true nature than perhaps she ever wanted to be.
Brian Francis' prose is wonderfully readable, he has a talent for perfect detail, though perhaps the novel's greatest strength lies in how the many different story-lines and time-lines are woven together seamlessly. His generosity with happy endings is measured out just enough to be believable, but also for the novel to be uplifting, and Joyce Sparks is certainly a worthy addition to the canon of Hagar Shipley, Georgia Danforth Whitely, Daisy Stone Goodwill etc.: "I am not at peace."