August 25, 2011
The Best of Everything by Rona Jaffe
I still haven't watched the fourth season of Mad Men— I'd like to fix the world in order to have Mad Men perpetually before me. We recently rewatched Season 1 though, and got so much out of it– partly because we watched it first time around when Harriet was still so small, so concentration was limited, plus somehow we missed the pivotal "Babylon" episode, so no wonder I felt the narrative was a little out of sync. It's an extraordinarily good show, no doubt about it now. Though I have feelings for Don Draper in a way that I haven't harbored for any imaginary person since Dylan McKay in the early 1990s.
My Mad Men reading also continues– I'm still making my way through The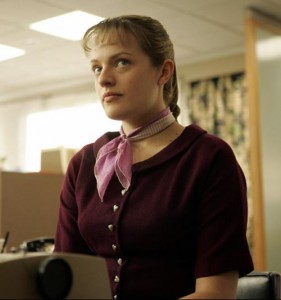 Collected Stories of John Cheever. For literary illumination into Betty Draper, I had the pleasure of The Torontonians last winter. And I've just finished reading The Best of Everything by Rona Jaffe, which is a little bit Peggy Olson, a little bit Joan Holloway, not to mention a book that Don Draper himself was seen reading once in bed. (He looks at Betty. "This is fascinating.")
The Best of Everything is the story of a group of women working at a publishing company in New York City during the early 1950s. Their lives are not especially intertwined, the narrative follows them separately, but they each begin in the same place, working in the typing pool. Smart, beautiful Caroline Bender has been recently jilted by her fiance and is looking for a way to direct her life without him– she has her sights on becoming an editor, but her boss Miss Farrow knows it and is determined to keep Caroline from succeeding (because there is only so much success for women to go around, of course.)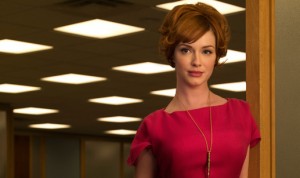 April Morrison is a gorgeous girl from Colorado with no such ambition. She just wants to fit in, and she does after a while. Once she figures out how to reject the advances of her lecherous boss, that is, and reinvents herself with a stylish haircut and new clothes paid for on her charge card. When she lands herself a rich boyfriend, she figures she's got it made, and it takes her a long time (and an abortion) to realize that he's been stringing her along. Ever the optimist, however, she starts sleeping with every other boy who comes along in home that one of them will fall in love and make her the wife she yearns to be.
Caroline's roommate Gregg only lasts at the publishing company a short time. She's an actress, and she has promise, and she also has a prized contact in David Wilder Savage, the theatre director who becomes her boyfriend. Or he's kind of her boyfriend– when they show up at the same parties, he always brings her home, but she can never stay. She longs to sew curtains for his bare kitchen windows, and in spite of the openness, there's always more going on in his life than she is privy to. Eventually, he puts her at a distance and that begins to make do some crazy things.
Then there's Barbara Lemont, who's divorced and relies on her job to support her little daughter. When someone finally falls in love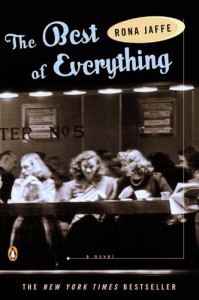 with her, every single thing is right about him except that he is married. And there's Brenda, who's getting married, and Mary Agnes the office gossip, who is getting married too, and for those two, the job is a stop-gap. But then it never is entirely:  "It's funny, she thought, that before she had ever had a job she had always thought of an office as a place where people came to work, but now it seemed as if it was a place where they also brought their private lives for everyone else to look at, paw over, comment on and enjoy."
It's all a bit of a soap opera, and the endings are too easy, but it all culminates into something more than that, and the book becomes utterly absorbing. Fascinating too that these are the women John Cheever's characters leave behind when they take the train to Westchester at the end of the day, the kind of women that Betty Draper and Karen Whitney wonder about, when Betty and Karen are the women these women long to be. Almost. And it reminds me of the thing I keep forgetting whenever I think about 20th century history, which was that people were having sex in the 1950s, and willy-nilly to boot. That the more things change, the more they stay the same, and why do stories of beautiful people with terrible lives always seem so incredibly appealing?