August 24, 2011
The Vicious Circle reads Hell by Kathryn Davis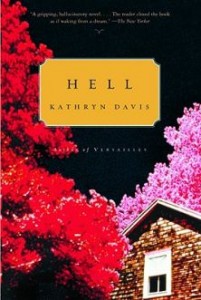 There are some books that make us suspect rumours of the Vicious Circle's awesomeness might just be overstated. And also that we chose our books back in March with a bit too much zeal and too little caution because, yet again, one of our books has conspired to kill us. This book was Hell by Kathryn Davis, whose cover made us think we'd love it, and we did love it, in parts, but in other parts it made us want to die, fall asleep, close the book and/or fling it against the wall.
One of us had a library copy of the book which featured a sticker on its spine that said, "Suspense", and we figured that sticker had probably resulted in a lot of disappointment for some readers. "Part mystery, part domestic meditation, part horror story" says the back of the book, but we just didn't get it. Long, long paragraphs of impermeable prose, and even when you took it all apart, the mechanics were generally unclear. Which doesn't make it seem worth it after a while, to read those paragraphs over, and over, and over.
Some of us came to terms with this by reading it just once and letting Davis' mesmerizing prose wash over with no concern with meaning. Others came to terms with this by not finishing the book. Those of us who finished the book positively hated the end, and resented Davis for taking the narrative away from the part of the story that most appealed. We liked the 1950s family story, which reminded she of us who'd just read it of Barbara Gowdy's Falling Angels (except the people were less weird, and the narration was more so). We thought it was cool that this was a Hurricane Hazel story, because we'd never read one that was not Toronto-centric. Most of liked that the story was about the residents of an actual house and the residents of a dollhouse, and the lines between the two were always being blurred. Davis writes about the miniature, about the domestic and its detail. Did we know that medicine cabinets used to have slots in the back where used razor blades could be disposed of? And this is what a house is, an innocent-looking place until you get down between its walls and you find they've sliced open your wrist.
"Of course every house in the world, no matter how well-built, will eventually catch fire, blow up, wash away, get knocked down to make way for something new. No matter how durable a house, it isn't immortal… For this reason the house is jealous of spirit and, as is often the case, becomes possessive. This is why houses are haunted and why, if you love the form of a thing too much, there's really only one way out."
There are many stories– the family with the alcoholic mother and philandering father, the eldest daughter who refuses to eat, and who yellow-eyed friend turns up dead due to mysterious circumstances. The narrative goes back and forth in time, and somewhere in time the father is elderly, incapacitated, and lying on the floor after having suffered a stroke. It also goes way back in time to a Mrs. Beetonish character called Edwina Moss whose daughter also refuses to eat and who is preoccupied by Napoleon's chef. There is food everywhere, but it is disgusting. The domestic is much less heaven and hell, or it is heaven and hell, and the vision of hell is what makes us conscious of our own limitlessness, the magnificence of our construction, the nimbuses surrounding every single hair on our heads, whereas heaven is too finite. And if that doesn't make any sense to you, know that it didn't to any of us either.
But it did to somebody. There are readers who have loved this book, and express that it's not going to appeal to everybody, and that it's demanding, but the Vicious Circle failed to reap any of the rewards. Which made some of us shrug and say that if we can't get it, it might not be a great book after all. Others are going to pick it up again sometime, because it might be one of those books that needs five or ten reads to be loved (Hello, Virginia Woolf! And you were worth it too!).
And then we threw our books down because it was still a summer night, the autumn chill distant enough that we can ignore the need for sweaters, and we poured another glass of wine and let talk drift away to other things.